Very rare Wilier Karbon 2 De Luxe stolen from Derbyshire home
A 2004 Pantani edition Wilier Karbon 2 De Luxe, thought to be the only one of its kind in the world, was stolen from Heanor, Derbyshire, on Sunday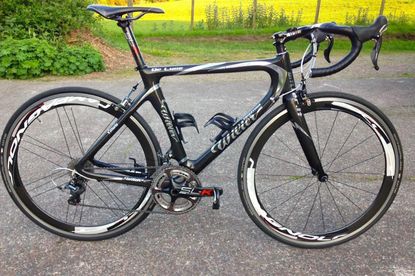 The owner of a very rare Pantani edition Wilier Karbon 2 De Luxe, stolen from his house on Sunday night, has asked people to be vigilant in case the thieves try to sell it.
Mark Herring, of Heanor, Derbyshire, found his very limited edition bike missing on Monday morning along with his wife's Scott Speedster 10.
>>> Is this your bike? Police seek owner of stolen machine
The unique bike is thought to be the only one of its kind in the world, with the owner worried that thieves won't understand how rare it is.
Along with the black and chrome graphics on the frame there is a Pantani pirate logo in the middle of the custom handlebars. Other features of the bike include:
Campagnolo Bullet 50 wheels with Schwalbe One tyres (25mm)
Jagwire cables in silver.
Ultegra derailleur
28-tooth Ultegra Cassette
SLK carbon crank
SLK seat post
Callipers are Planet X fitted with BBB techstop blocks
Ultegra Carbon pedals
>>> Bicycles were Britain's most stolen item in 2015
"Its not about the money on this one as lots of people are aware around the world, it was lovingly built and adored by many various social network sites and clubs," said Mr Herring's friend Martin.
"This bike is so unique that it will be very hard for anybody to sell it on or avoid being identified.
"We fear the importance and rareness of this bike may be miss understood by the thieves and that it may come to a very sad end if not found soon, at least one other bike was stolen on the street that night."
Thank you for reading 20 articles this month* Join now for unlimited access
Enjoy your first month for just £1 / $1 / €1
*Read 5 free articles per month without a subscription
Join now for unlimited access
Try first month for just £1 / $1 / €1