Ride a London hire bike at Earls Court Cycle Show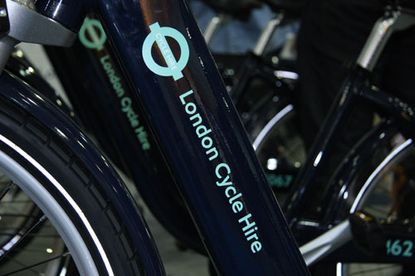 London may not be getting Copenhagen style cycling routes with traffic light priority at major junctions - just yet!
But at this weeks Cycle Show in Earls Court, the Mayor's Transport Advisor Kulveer Ranger hinted that this will need to happen if there is to be a "true" cycling revolution.
But in the meantime, he talked of the first phase in that revolution expected next summer, with the launch of the cycle hire project and the first two of the 12 Cycling Superhighways.
I asked him if London will ever follow Copenhagen's lead, and provide dedicated cycle lanes with traffic light phases for riders at many junctions.
"We are looking at a lot of initiatives, around traffic lights and around cycling," said replied. "We are in discussions with the DfT about can be done to help.
"Because as we are delivering a true cycling revolution in London we will need these kind of things to happen as well.
'"That's why we are also talking to DfT about potentially having a trial of cyclists being able to turn left at red. Innovative ideas like that that can help cyclists, that can help make it safer, help the flow of cyclists.
"Fundamentally, it is about modal shift. It is about encouraging people on to what is quite clearly, the cleanest, greenest form of what WILL be a public transport mode in London. So, everything we can do we will try and do."
The outline routes of Cycle Superhighways are on display at the show. The first two Cycling Superhighways will be from South Wimbledon to the City and from Barking in the east to the City - both about 10 miles long.
I said that he must agree that this name conjures up images of dedicated routes which they are not, they are simply blue painted cycle lanes only a metre wide and vehicles are not barred from driving into them! Concerns have been raised at how these lanes will cross major junctions. I asked him how will riders be made to feel any more safe in them than in conventional cycle lanes?
Ranger replied: "One of the key points about the Cycle Superhighways is that they are continuous. Now you and I as cyclists know that the most frustrating thing in the world is when a cycle lane disappears in front of your eyes. Especially when you come up to a key junction."
Yes, I agreed, and mentioned the famous legend "Ends" printed on cycle lanes whenever a refuge in the middle narrows the available road space.
"Or the 'Cyclists dismount here'. That's one which always resonates with me," he added.
"The point here is that when you are going through a junction, what is the fundamental point of uncertainty?
"For you it's about where am I meant to be, as in where can I be safest as I go through it.
"For every other user, whether they be in a car, a bus, a van, it's about where can I expect a cyclist to be.
"So if you have it a clearly demarcated that this highway continues through the junction everybody knows where to expect the cyclist.
"It's about awareness. It's about safety. Actually, those are the key things which underpin the cycle superhighways.
"That's why we are so keen to deliver them."
Visitors to the show can saddle up for a virtual reality ride down a blue-painted Cycling Superhighway. In a novel nod to safety concerns, mirrors on roadside posts will give lorry drivers with a blind spot a view back down the outside of their vehicle - to spot any cyclists lurking there.
This idea came about in talks with the haulage companies, the more responsible among them agreeing to advise on the fitting of additional cab mirrors.
By September this year, eight cyclists had been killed by lorries turning across them in the capital. It remains the most serious threat to cyclists.
(European Union legislation requires lorries over 3.5 tonnes registered from 2000 to have safety mirrors fitted by 31 March 2009. Source: London Cycling Campaign).
"A lot of work's been done with the heavy goods vehicle industry and some of the feedback we've had from them about how they use what's called trixie mirrors. That's what led to thinking, well why not have these mirrors at key points, where there is place to put them up, so they can help with visibility and help awareness."
The other main focal point on TfL's stand are of course the sturdy, good looking hire bikes on display to the public for the first time. Visitors who try them out for themselves will discover them comfortable and lively to ride, albeit on a special test track which bears no resemblance to the Capital's streets. But the big round tyres look capable of smoothing out London's bumpy pot-holed roads.
Kulveer Ranger told me he's been riding around on one of the new bikes last week. "It looks fantastic. I've been riding around on it quite a bit. It's comfortable. It feels strong and sturdy. It's got lights, a bell, mudguards. I think they're going to be raging success.
"From what TfL are hearing everyone who has seen the new bikes likes the design.
"It's obviously not meant to be so attractive they you want to take back home!" he added, hoping they won't be nicked!
"But it is something that is going to be out on the streets, 24/7, so it does need to be robust. And yes, it is quite elegant as well."
He confirmed there will be 6000 of these bicycles launched next summer.
Cycle Hire will be available from 400 docking stations. "That means about 10,000 docking points," Ranger explained.
"Hopefully, with 6000 bikes, you will be able to find docking point wherever you need it."
There has been criticism that the docking stations won't be at the main railways stations where commuters most need them - because the Mayor feared the bikes would all be snapped up, that demand would exceed supply.
Ranger explained the rationale behind this had more to do with not putting too much pressure on the stations with whom they are already discussing where to place key cycle parking spots for commuters with their own bikes.
He said the cycle hire scheme will eventually get to be involved with stations but in this first phase they want to establish it in other critical areas.
The point is, he said, you will never be more than 150 metres away from docking point in Central London, including in the Royal Parks.
If the scheme is a success, as he is sure it will be, phase two will be spread the docking points outwards, to the outer boroughs.
"We want people to be comfortable about riding but we have to be able to manage the delivery of it.
"So the first phase is 6000 bikes, it's around nine boroughs. But TFL are already exploring phase two, three and so on and so forth. Much like every other city which has delivered this kind of scheme has done."
London Cycling Campaign have hailed the cycle hire project as a great innovation, despite voicing concern that without a grid system of cross city cycle routes the cycle hire scheme may not realise its full potential,
LCC's Tom Bogdanowicz says the project should give cycling a huge boost in the capital.
Thank you for reading 20 articles this month* Join now for unlimited access
Enjoy your first month for just £1 / $1 / €1
*Read 5 free articles per month without a subscription
Join now for unlimited access
Try first month for just £1 / $1 / €1