Road racing could receive new influx following triathlon rule change
You could see some new faces at your next road race, now that a rule change has forced triathletes to practise their bunch riding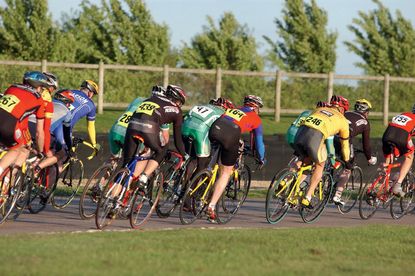 Get The Leadout Newsletter
The latest race content, interviews, features, reviews and expert buying guides, direct to your inbox!
Thank you for signing up to The Pick. You will receive a verification email shortly.
There was a problem. Please refresh the page and try again.
A change to the rules of certain triathlon events could mean an increase in riders training in chain gangs and competing in road races in the UK.
At the moment the bike leg of amateur triathlons is like a time trial, in which drafting is not permitted. However, British Triathlon has confirmed that the bike legs for its qualification races for the 2016 age-group sprint world championships will be draft legal, akin to a bunch road race.
>>> Ride and race smarter: improve skills to stay safe in the bunch
Experienced cyclist and triathlon coach Joe Beer, of Joe Beer Smart Training Ltd, confirmed that triathletes wanting to represent the Great Britain sprint distance age-group team will need to change the way they prepare.
"They will need to train to the needs of the new race format," Beer told Cycling Weekly. "This will mean cycling club chain gangs and taking part in road races."
However, Beer warned that there will be a steep learning curve, and a possible increase in accidents.
"Some riders will undoubtedly be new to group riding and will need to improve quickly — otherwise there could be lots of crashes," he said.
>>> Improve your bunch riding skills: up close and personal
Category four and three road races are notorious for crashes. The biggest problem for cyclists new to road racing is that they are often fit enough to ride fast, but haven't yet gained enough experience to cope with touching elbows down a descent or following the racing line around a tight corner.
Tips for group riding
New to training or racing in a group? Here are some principles to keep in mind:
Communicate with the riders around you, including pointing out any holes to the riders behind you.
Keep your head up and look beyond the rider in front you (especially on open roads).
Avoid overlapping wheels.
Hold your line, avoid sudden movements and try to ride smoothly. For example, do not over compensate when another rider leans on you or touches you with an elbow.
When getting out of the saddle remember to push down on the pedals, otherwise your bike will effectively slide backwards or momentarily stop.
If necessary brake when approaching a corner, not when going round it.
>>> Group riding: the essential guide
If you're an experienced rider then always be aware that others may not yet have your proficiency — and if cat four/three racing suddenly gets a lot more competitive, you know why…
Our guide to a warming up for a quick race
Thank you for reading 20 articles this month* Join now for unlimited access
Enjoy your first month for just £1 / $1 / €1
*Read 5 free articles per month without a subscription
Join now for unlimited access
Try first month for just £1 / $1 / €1
Get The Leadout Newsletter
The latest race content, interviews, features, reviews and expert buying guides, direct to your inbox!