Scott Sunderland joins L2P 2010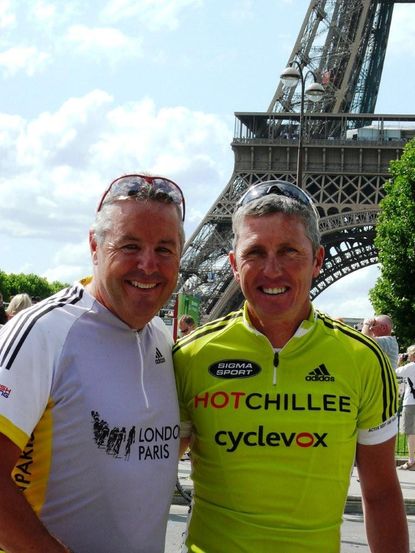 The Australian former professional road cyclist and top coach Scott Sunderland is to lead the London-Paris 2010 cyclosportive on June 24-26th as Ride Captain.
He is returning to the road after recently leaving Team Sky where he was a Senior Coach, to spend more time with his young family.
Sunderland said: "I rode L2P last year and enjoyed the challenge and atmosphere enormously. I'm looking forward to cycling and relaxing with old and new friends."
"My youngest son has some challenging health issues and this summer we are concentrating on family life - cycling will be a big part of that."
Australian-born Sunderland is known as "the Sir Alex Ferguson of cycling" after helping Carlos Sastre to Tour de France victory in 2008. He joined Team Sky the following year.
Sunderland said that it was a pleasure to work with Team Sky and to be there at the beginning to help establish a new team.
He added: "It'll be exciting to watch the build up to Team Sky's Tour de France debut while I'm riding with the L2P peloton. In my role as Ride Captain, I'll be passing on a few pro team tips."
Sunderland is widely respected for his toughness and determination. As a boy from the New South Wales bush, he worked double shifts in an abattoir to fund his early cycling career.
He competed as a professional from 1990 to 2004 and famously suffered horrific injuries in the Amstel Gold race in 1998 when he was hit by a following team car.
The London-Paris 2010 on June 24-26th is staged by HotChillee and is the UK's premier cyclosportive. It is recognised as the closest the amateur rider can get to the Tour de France experience.
The ride covers 550km in three days with a rest day in Paris. The Daily Telegraph recently ranked L2P as one of the world's top 25 participation sporting events, alongside the London and New York marathons. The event has also been named in the top ten of adventure events for women.
Sunderland will be riding alongside Tour de France and Giro d'Italia winner Stephen Roche, Olympian Rebecca Romero, ex-pro Magnus Backstedt, former Formula 1 world champion Nigel Mansell and ex-England rugby captain Will Carling.
This year's L2P partners are adidas, Science in Sport, Specialized, Cyclevox, Sigma Sport, Mavic, Ambrosia, Map My Tracks, DHL, C37 and Sportique.
Thank you for reading 20 articles this month* Join now for unlimited access
Enjoy your first month for just £1 / $1 / €1
*Read 5 free articles per month without a subscription
Join now for unlimited access
Try first month for just £1 / $1 / €1