Secteur Pavé Michael Goolaerts: Paris-Roubaix remembers fallen rider by renaming cobbled sector
Second sector renames in memory of Belgian rider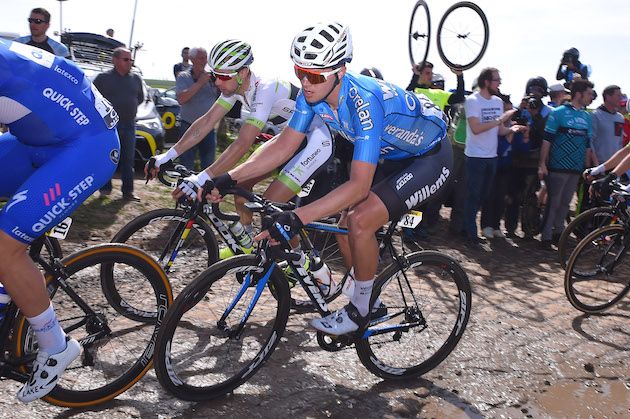 (Image credit: Luc Claessen/Getty Images)
Paris-Roubaix organisers will pay tribute to Belgian rider Michael Goolaerts, who died during the 2018 edition of the race, by renaming one of the cobbled sectors in his honour.
Goolaerts died during the 2018 Paris-Roubaix after suffering a heart attack while riding the second sector of cobbles at Briastre shortly before the halfway mark of the race.
Now, to give Goolaerts a lasting memory in the race, that sector will be renamed the "Secteur Pavé Michael Goolaerts", with Belgian radio station Radio 2 reporting that Goolaerts's family will be invited to a special ceremony on June 10 to unveil a special monument on the site where the rider fell.
Tributes will also be paid to Goolaerts at the Heistse Pijl one-day race which will take place on Saturday June 2 around Goolaerts's home town of Heist-op-den-Berg.
>>> Obituary: Michael Goolaerts, 1994-2018
Goolaerts died on April 8, 2018 after crashing on the second sector of cobbles during Paris-Roubaix. He received medical attention at the scene before being airlifted to hospital where he sadly passed away.
Friends and team-mates described how it had been his dream to ride Paris-Roubaix, with agent and family friend Jef Van den Bosch describing his excitement ahead of the race.
"What stuck out was his smile. I saw that he had talent. He was from the same group as Van Aert, but didn't succeed as quickly, but he showed much potential," Van den Bosch said shortly after the Veranda's Willems rider's death.
"He was very well liked. He was always happy, the guy with a big smile. The day before Paris-Roubaix, we had a photograph for a newspaper, together with Wout van Aert. He couldn't stop smiling, it was natural for him and of course, Paris-Roubaix was to come."
The renaming of the cobbled sector as "Secteur Pavé Michael Goolaerts" makes this the first Paris-Roubaix sector to be named after a person rather than a place.