From one pack to another: Swapping rugby for cycling
After injury forced former Wasps forward Alastair Little to retire early, he swapped the scrum for the peloton - writes David Bradford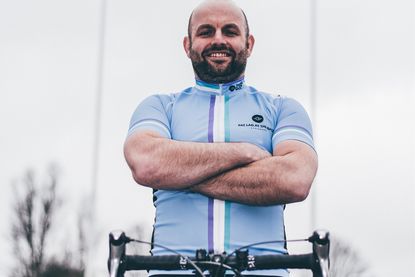 Weighing 18.5st and having the ability to run fast is a formidable combination. It was this blend of brawn and pace that made Alastair Little, 41, a unique asset for his rugby clubs.
"I played at a high level for around 15 years," he says. "After playing for Swansea University in the early Nineties, I joined Wasps, then London Welsh. I went on England camps and played against some of the biggest stars of the time."
>>> Nine ways cycling changes when you're over 40
Though being heavy and fast was clearly an advantage for a back row player, it also meant that Little's body was continually forced to absorb massive forces.
"Because I was quick for my size, I was always a ball carrier. This meant I was always head down, lots of collisions, which meant that one of the discs in my neck was pretty much destroyed."
>>> Geraint Thomas: I could keep riding until I'm 40
The accretion of damage to Little's spine over the years resulted in severe, sharp pain each time he sustained an impact on the field.
"With every single contact that I made, I'd get something called a stinger, which is where a nerve is compressed and your arm and the whole side of your neck and face feel as though they're on fire."
It wasn't easy for Little, then just 32 and feeling he had "plenty left", to accept the extent and implications of the problem. For four years, he had striven in vain "like a typical bloke" to ignore the pain and physios' advice, clinging to the hope that he would not have to retire.
"At that point, rugby was pretty much all I'd known. You don't want to give it up or admit you're not strong enough. There was a pride thing messing with my mind — not wanting to admit that I was no longer indestructible."
>>> How to keep riding in your 80s
But as the agony intensified, he finally had to face up to the reality that his playing days were over.
"One weekend in 2006, it turned into constant pain and I got no sleep for about three days. I'd started cycling by this point and I remember being in the Lake District, going down a steep descent and struggling to brake; it was obvious there was a big problem. I just said, 'Right, enough.'"
Cycling provided not only the decisive diagnosis for Little but also a source of solace and a way to get back into shape.
>>> Eat like you train: Periodised nutrition
"[Quitting rugby] was tough fitness-wise. You don't really see [weight gain] happening but, when I look back at the pictures, I was a good three to four stone heavier than I am now.
"[When you stop playing rugby] your lifestyle doesn't change, you don't stop eating, drinking and socialising."
Don't let age slow you down
How it worked for me
Following his retirement from rugby, Alastair Little's weight crept up to nearly 20 stone. Through determined effort on the bike, he's lost four stone and is in the shape of his life. How did he achieve it?
"I went out and repeatedly took on all the hills I could find, both where I live in Yorkshire, and when staying away for work [as a manager for Biffa] in the Caerphilly area of Wales. It's true what they say: it doesn't get any easier, you just get faster, and that's what keeps you motivated.
Filling the void
He also had to find a way to deal with the sharp sense of loss. "It was very difficult. In rugby, you feel you have a ready-made family anywhere in the world. You're part of something: you've got friends around you, and together you pull through some tough situations. Losing that, which was something I'd known since the age of 10, left a big gap."
>>> How to maximise self-confidence for racing success
Riding his bike was initially just a bit of fun in the off-season, but it grew in significance once his playing career was over.
"It was after we moved north to Yorkshire," Little recalls, "I began to realise how good cycling was for fitness."
>>> Interval training: An essential guide for cycling performance
Attempting to take on Yorkshire's merciless terrain in a near 20st frame wasn't easy. "Going up and down hills, I soon realised that the weight was a massive issue. I went through a couple of back wheels, breaking spokes. Bikes aren't built for 20-stone former rugby players."
Little's initial goal when he joined his local club, Moonglu in Ripon, was to get faster but as he gradually increased his mileage to 100-150 per week, shedding pounds was the inevitable, and necessary, outcome.
>>> How they used to train: Jacques Anquetil's time trial training
"Cyclists are naturally quite small people, so I would go out with the main group, fight to keep up on the flat and just get dropped on the climbs."
Little is still "about twice the weight" of every other rider in his local peloton but club runs in the 20mph group are no longer off limits.
"I can really enjoy them now and keep up with the racing snakes, or at least keep them in sight. I've lost nearly four stone since peaking at about 20. This year I've set myself the target of getting to under 15 stone."
>>> Five ways to eat for weight loss (video)
Cycling may have provided a healthy, fun distraction, but can it really compensate for a top-flight rugby career cut short?
"Yes, it has more than filled the gap. People ask me if I miss rugby and the answer is absolutely not. I probably love cycling too much — or so my wife would say — but I'm in better shape than ever."
This is not just Little's own view, but one supported by someone who monitored his physical condition for years: "I went back to my old club Aylesbury a few weeks ago and saw the coach. He said: 'Why the f*** couldn't you have been like this when you played rugby!?"
Planning a trip?
"Cycling's worked wonders — he's fitter than ever"
Dave Larham coached Alastair Little at Wasps and Aylesbury rugby clubs and is impressed with his former player's fitness
"I was actually quite shocked when I saw Ali the other day. He was always a big guy — very powerful, and with a fat percentage that was probably nearer 20 per cent than 10. But when I saw him... clearly the exercise of being on a bike has stripped away the body fat. He looks better now than he did 10 years ago when he was playing rugby to a high standard.
>>> Going the extra miles: how to train for and complete an ultra-distance sportive
"If Ali had been involved in cycling back then it's scary to think how much more powerful a rugby athlete he would have been. I'm also sure that if he had started this type of activity when he was younger, he would have avoided the injury problems he began to have in his late 20s.
"Whereas rugby is fairly stop/start, with rest periods, in cycling you're always working quite hard, always in the fat-burning zone. I'd certainly recommend it to other rugby players, whether they're still playing or retired."
Thank you for reading 10 articles this month* Join now for unlimited access
Enjoy your first month for just £1 / $1 / €1
*Read 5 free articles per month without a subscription
Join now for unlimited access
Try first month for just £1 / $1 / €1
Founded in 1891, Cycling Weekly and its team of expert journalists brings cyclists in-depth reviews, extensive coverage of both professional and domestic racing, as well as fitness advice and 'brew a cuppa and put your feet up' features. Cycling Weekly serves its audience across a range of platforms, from good old-fashioned print to online journalism, and video.