Innovative Swytch system claims it can 'convert any existing bike to an eBike' for £225
Crowd-funded project aims to bring the latest eBike technology in an affordable, lightweight package. We took it for a first ride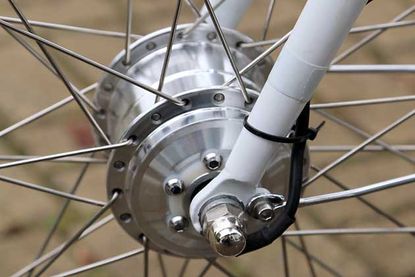 (Image credit: Nigel Wynn)
A British-designed electric bike conversion system is claiming to be able to convert any existing bike into an eBike, and for the price of £225.
The Swytch system uses a motor in a front hub powered by a separate battery pack to convert road bikes, hybrids, folding bikes, mountain bikes... and even penny farthings.
Like many eBikes, the electric motor kicks in as you pedal, with the power output selected by a control panel mounted on top of the battery pack, which can be easily mounted on handlebars.
Speed can be boosted to 15.5mph (EU) or 20mph (US).
Customers select the size of front wheel they would like at the time of purchase, and the system is supplied complete with the wheel.
This is not a one-way conversion, and any bike can be easily converted back into a regular bike – with the potential that the whole system could be swapped between bikes, if they share the same size front wheel.
A sensor on the bottom bracket and on the brake lever detects pedalling and braking respectively. The motor cuts out when the bike's brakes are applied.
The battery pack can be easily unclipped from its mounting, and carried with the supplied shoulder-strap. Although the battery pack is shown here attached to a handlebar – which give ease of access to the controls – it could also be placed on a rear rack or in a pannier.
Swytch claims that the system adds around 2kg to any bike.
Two battery packs are available, a standard pack with a range of 25 miles and a higher-capacity battery with a 50-mile range. The smaller battery takes three to four hours to charge, with the 50-mile unit taking longer at five to six hours. The battery also includes a USB output for charging other devices.
>>> Seven things I learned from riding an electric bike
Oxford engineering graduate Oliver Montague developed the design, which he hopes will have mass appeal.
"I've wanted to design a simple, inexpensive, and convenient to install and use e-bike system for several years now," said Montague. "I've gone through many prototypes and visited many suppliers and am now ready to launch what I believe is a ground-breaking product."
Swytch are raising funds for the project via crowd-funding website IndieGoGo, and hit its initial target of £20,000 within just a few hours of going live on Tuesday.
For £$299 (£225) on IndieGoGo a kit includes 250W motor wheel in any size (including tyre), 25-mile power pack, handlebar bracket and connector, 36V 180Wh li-ion battery, charger, pedal sensor, two brake sensors and free shipping to the EU and US.
Complete bikes are also available with the system installed – the model shown in our photographs costs around £500. A carbon-fibre-framed road bike model with the 50-mile battery is available for around £1520. Deliveries are estimated to be in April 2018.
Swytch eBike kit first ride
I had a quick spin out on my local roads on a bike equipped with a working prototype of the Swytch system.
Firstly, the conversion kit looked neat, and not like something cobbled together as an after-thought.
The compact size of the Swytch system and the simplicity of its use belie its power – it provides an impressive injection of drive when you start pedaling. This was most noticeable when going up a hill, where the boost in your pedalling power is most needed.
Although it may give you extra power that you don't have, it does not feel unnatural – although the system gets you up to speed swiftly.
I found switching to a different power mode quite easy using the control panel on top of the battery pack, although this does mean taking one hand off the bars. The power selector read-out and battery level LEDs were very clear.
I expected the weight of the battery and motor to alter the weight distribution of the bike, and although there is some extra weight at the front it didn't affect steering and didn't feel significant.
One aspect of the system using a front-wheel drive is that it effectively turns your bike into all-wheel drive when you are pedalling along, although I didn't try it off-road to test it in muddy conditions with suitable tyres
Given that you can fit the relatively inexpensive system to the majority of existing bikes with little fuss makes the Swytch system very attractive.
I can see this appealing to people who have so far looked at an eBike but been put off by the cost, or because they simply don't like the models available. Now you can turn your favourite bike – or an unloved old one – into something new, and easily change it back again.
Thank you for reading 20 articles this month* Join now for unlimited access
Enjoy your first month for just £1 / $1 / €1
*Read 5 free articles per month without a subscription
Join now for unlimited access
Try first month for just £1 / $1 / €1