Team Sky sponsors feel benefit of UK cycling boom
Rapha see revenues rise by 40%, with replica kit and supporter apparel popular with Team Sky fans.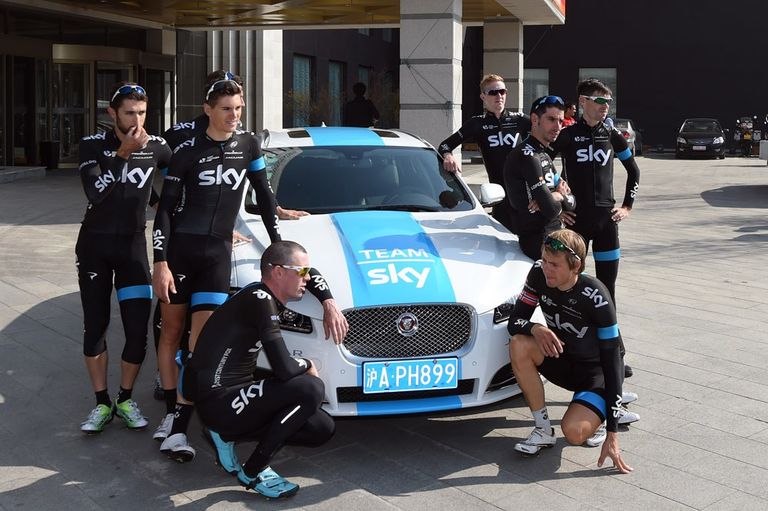 (Image credit: Graham Watson)
Sponsoring a professional cycling team can be a lucrative deal, and Team Sky's band of backers certainly appear to be feeling the benefit of the sport's growth in the UK.
Clothing company Rapha and car marque Jaguar may have put their resources behind Team Sky for different reasons, but both have seen a rise in their respective profiles in the last few years.
Since becoming Sky's official clothing partner in 2013, Rapha have seen 15-20% of their sales in the UK come from professional kits, replicas and supporter apparel, according to Marketing Week.
"Other [cycling] teams don't do supporter products but Team Sky is keen to engage the British public and get people behind it, so wanted to have something accessible for fans," said Simon Mottram, founder and chief executive of Rapha.
"The UK is the centre of the cycling world. There is more popular take-up, interesting innovation and buoyancy here compared to anywhere else in the world."
Rapha's revenues grew 40% last year, as they had done for each of the two years previously, with the UK continuing to be their biggest market.
Mottram added: "If you go back 15 years, the US had a similar boom on the back of Lance Armstrong and a few other things but it plateaued after he retired as it wasn't ingrained as deeply into popular culture.
"I don't think cycling can keep growing at quite the same rate in the UK but I don't see any reason why it will drop back."
In Team Sky, Jaguar found a cycling team who's interest in engineering excellence is as keen as theirs, with the company becoming Sky's innovation partner this year.
Sir David Brailsford and his team not only benefit from driving Jaguar cars as support vehicles throughout the season, but also from Jaguar's design and technology expertise - setting both parties apart from their competitors.
"The philosophy around performance, engineering excellence and attention to detail fit seamlessly with Jaguar in terms of what we stand for and how we want to be perceived," Mark Cameron, global brand experience director at Jaguar Land Rover told Marketing Week.
"Jaguar is a reasonably small and emerging brand," admits Cameron. "We have big growth year-on-year but we're tiny in comparison to some of our competitors, so we have to find things that give us cut-through."
Source: Marketing Week
Sir Bradley Wiggins says he couldn't have imagined the current interest in cycling when he started his career in the
UCI president and former member of the team's operating board says homegrown riders are not being developed by the squad.