TEAM SWIFT RACING WOMEN'S SQUAD LAUNCHED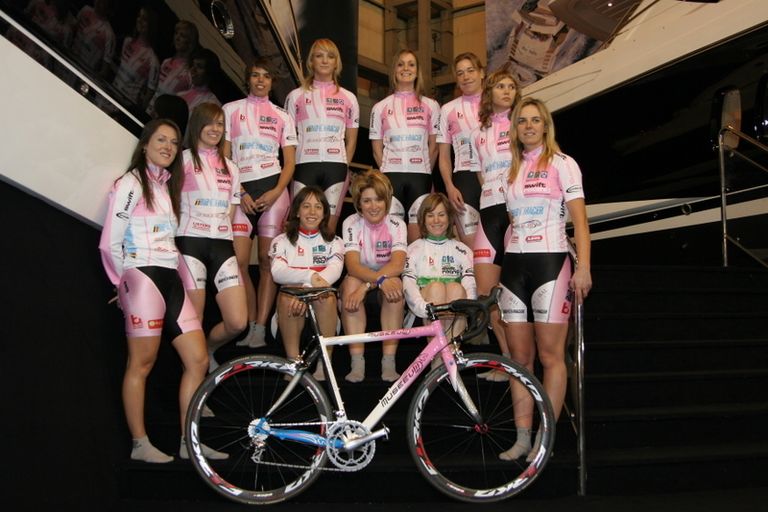 (Image credit: Picasa 2.7)
Team Swift Racing officially launched at the National Exhibition Centre, Birmingham, this week. The all-women team includes 2007 national cyclo-cross champion Helen Wyman, 2007 national cyclo-cross series winner Gabby Day and Great Britain Olympian Emma Davies Jones.
Although registered in the UK, the squad also includes riders from New Zealand, Belgium, Netherlands and Ireland.
"It would be a mistake to underestimate this team," said team manager Stefan Wyman. "We have a really strong squad of riders including National Champions, former Olympians and Commonwealth medalists as well as some extremely exciting young riders."
The squad are currently on a ten-day training camp in the south of France, it will the return to its base in Belgium in preparation for the spring classics.
Johan Museeuw's eponymous bicycle brand provide the team with riding hardware in the shape of its flax/carbon framed MF1 bikes. The squad's title sponsor is the Swift Group, a British-based manufacturer of caravans and motorhomes.
TEAM SWIFT RACING 2008
Toni Bradshaw, New Zealand
Debby van den Berg, Netherlands
Lien Beyen, Belgium
Ine Beyen, Belgium
Gabby Day, Great Britain
Marina Duvnjak, New Zealand
Jenny Fay, Ireland
Sigrid Jochems, Netherlands
Emma Davies Jones, Great Britain
Alice Monger-Godfrey, Great Britain
Louise Moriarty, Ireland
Sarah Reynolds, Great Britain
Helen Wyman, Great Britain
EXTERNAL LINKS
Team Swoft Racing: www.teamfbuk.com