Terrifying video shows passenger hit cyclist with firework from moving car
The video has been circulating on social media, but the details are unclear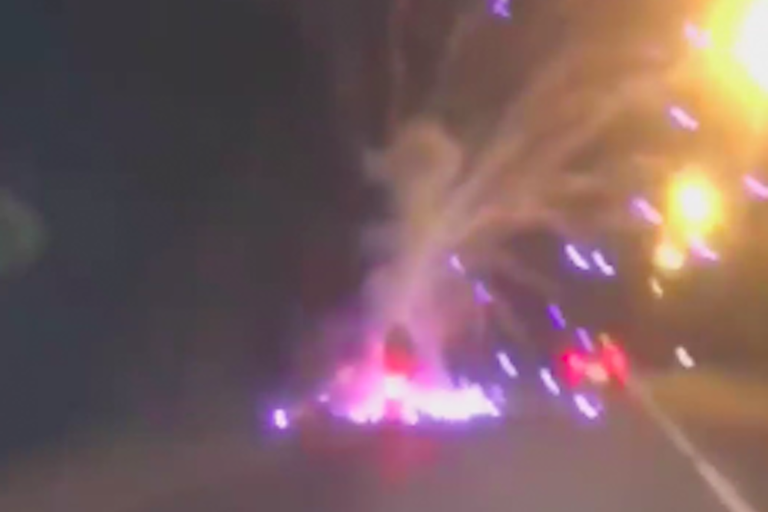 >>> Shocking number of drivers avoiding jail after causing death of cyclists uncovered by campaigners 
It is not clear if the cyclist was injured in the incident.
A Facebook version of the video, uploaded on Friday, has been viewed more than 800,000 and has been shared by almost 10,000 people.
A version of the video is first believed to have been posted on social media by a user from Yateley in Hampshire, with the caption "bloody good shot sir."
Footage of the terrifying incident, which has been uploaded to Facebook and YouTube, has been met with mixed reaction from viewers.
The rocket flies in the direction of a cyclist and a passing vehicle further up the road.
https://www.facebook.com/nick.surty/videos/10155865110731966/
The video has been shared widely on social media, but it is not clear when or where the incident happened.
Some viewers suggested the incident should be reported to police while others suggested the people involved "need to grow up."
Occupants of the car can be heard laughing, before the firework launches in front of the car.
The video appears to be filmed by the driver as the car is travelling along a road, while the passenger holds a firework out the window.
Comments on the video include "I haven't laughed so hard in a long time" and "Idiots like this cause accidents on roads. What if that hit the car in front."
The video has been circulating on social media since the start of November but its origin is unclear.
It appears to directly hit the cyclist, but the video ends immediately.
A passenger can be heard saying "oh my god" as the rocket takes off.
A shocking video showing the passenger of a car shooting a firework at a cyclist has emerged online.