The cycling-related items YOU say should be in every party's General Election manifesto
It's election day: but what cycling-related item would YOU include in a political manifesto if you were a prospective MP?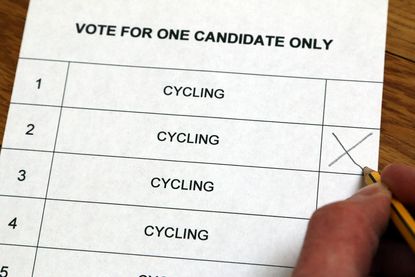 In case it has passed you by, today (Thursday, May 7) is election day in Britain. All across the country, tens if not hundreds of people will be shuffling along to school gyms and village halls to silently stand in a claustrophobic plywood booth and use a tiny pencil on a piece of string to mark a cross next to the name of someone they hope will do a decent job in running the country.
Although the main political parties' manifestos remain a mystery to many, there's no doubt that cycling has moved up the political agenda since the last election. The safety of Britain's cyclists on the nation's roads has been debated in parliament, and most parties have said they are now firmly behind cyclists and the promotion of cycling. Apart from one or two exceptions.
We recently asked Cycling Weekly readers what cycling-related items they would include in a party manifesto, and here is a selection of the responses. Feel free to add your own thoughts in the comment box below.
Better cycle lanes. Helmets to be law. Potholes fixed. And for all cyclists to have some kind of course in road laws. There are too many out there giving the rest of us a bad name. Jumping red lights for example. If you're on the road, follow the rules of the road.
Gareth Loft
A Garmin, given how easily some parties seem to veer off course from the promises made in their manifesto.
Adam Coatham
Abolish VAT on all bikes and cycling-related goods. A healthy nation is a happy and productive one, so let's encourage the good citizens of Britain to get out there and ride rather than taxing them.
Dave Norman
Free bike helmets for school-aged children.
Andrew Tamplin
Make driving subject to the same laws as with any other object/weapon: murder, manslaughter, GBH, assault and battery. None of this 'careless' driving nonsense.
Robert Baldi
>>> Strava art turns political
All heavy good vehicles banned from all large town/city centres around peak commute times - particularly London. Also a reinstatement of the cycling proficiency test in schools.
Steven Saunders
Introduce business incentives to ensure that all companies with a workforce of over 30 people has somewhere for the secure storage of bikes and changing/showering facilities to encourage people to cycle (or run) to work.
Michael Howarth
A track pump for all those over-inflated egos.
Dave Crampton
Make the Cycle to Work scheme compulsory for all employers.
Neil McAlister
Proper cycling infrastructure, like Holland has.
Kristian Dunn
Attitudes towards road racing in Britain need to change. I'd put forward a alteration in the law to make it easier for road races and other cycling events to have closed roads. Britain has produced some of the world's best cyclists over the past decade, yet the domestic scene is floundering as it's so hard to put on events safely.
Ken Johns
Making a cycling test part of the driving test.
Ian Watts
>>> Cyclists most likely to vote Liberal Democrats, according to research
Tougher sentencing for road users who cause death or seriously injure cyclists.
Paul Boruch
Dedication to cycling paths and routes. Priority for road surfaces. Potholes are the worst! Cyclists can't ride at the side of the road, so everyone gets there slower.
Mark Middleton
Public information adverts explaining and illustrating: a) to give sufficient room when overtaking cyclists (Highway Code rule 163); and b) that cyclists ARE allowed to ride two abreast (Highway Code rule 66).
Chris Murray
Expanded infrastructure: no new urban or suburban roads without integrated and safe accommodation for bicycles.
Kurt Bauer
Thank you for reading 20 articles this month* Join now for unlimited access
Enjoy your first month for just £1 / $1 / €1
*Read 5 free articles per month without a subscription
Join now for unlimited access
Try first month for just £1 / $1 / €1