Third of Manchester streets given 20mph speed limit in bid to get more cycling
Local support for safer streets for cyclists and pedestrians leads to widespread introduction of 20mph speed limits in Manchester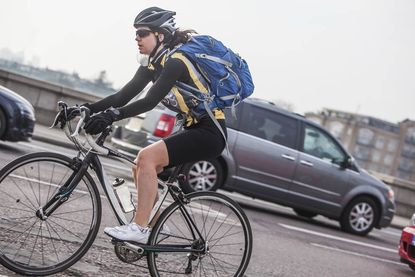 (Image credit: Chris Catchpole)
One third of Manchester's streets have become 20mph by law in a bid to improve safety in the city, and to get more people cycling and walking.
More than 1,100 streets totalling 111 miles, were made 20mph last week, in response to strong local support for safer streets.
The zone, which applies to non-major roads, covers three areas in the South, North and East of the city. Many of these roads were signed as 20mph already but were not legally enforceable until now.
A spokesman for Manchester City Council said: "This is the first phase. Our stated aim is to create 20mph areas on all residential streets across the city and we hope to announce a second phase of this shortly - subject, of course to funding."
"People are more likely to walk and cycle where they feel the roads are safer, and these are healthy, free and fun ways of getting around. They're also better for the environment. People walking or cycling are more likely to talk to each other - even if it's just a "Hello" - and that makes happier, friendlier streets."
Rod King MBE, Founder & Campaign Director for 20's Plenty for Us, said: "We are delighted that Manchester City Council is joining the growing list of our iconic cities who are rejecting the national 30mph speed limit as being not 'fit for purpose' for their residential streets.
"The 'one size fits all' 30mph policy of the pre 1990's was first complemented with isolated 20mph zones but now 'default 20mph and targeted 30mph' policies are becoming the norm. Already 13m people or 20% of the population live in places like Manchester where they are reducing limits and vehicle speed to make their places better places to be. And of course cycling and active travel is one of the biggest winners from this initiative."
The new speed limits support the council and Transport for Greater Manchester's work to encourage cycling, including offering free cycle training and investing in new routes, including improving 'cycling corridors', and Dutch-style cycle junctions and cycle lanes, partly funded by government money received last year.
The scheme, which cost £350,000, is being funded from the city's health budget, which King says is a growing trend since 18 months ago public health was brought under local authorities' remit. Active travel is one way to reduce obesity and diseases related to inactivity.
In terms of improving road safety 20's Plenty for Us says 20mph is seven times safer than 30mph for most people, and 10 times safer for over 60s. Road safety charity ROSPA says every 1mph decrease in speed reduces accidents by around 5%.
The Headrow to be transformed as part of Tour de France legacy plans
'Hard-hitting' campaign to increase awareness of cycle safety called for
Thank you for reading 20 articles this month* Join now for unlimited access
Enjoy your first month for just £1 / $1 / €1
*Read 5 free articles per month without a subscription
Join now for unlimited access
Try first month for just £1 / $1 / €1