Tour de France considering start in Qatar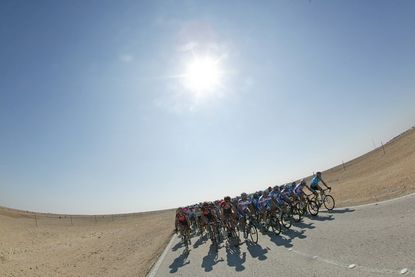 Organisers of the Tour de France are considering a start in Doha, Qatar, where they are currently running the Tour of Qatar.
According to a report in The Peninsula, Qatar's English language newspaper, organisers of the French stage race are seriously considering a start in the Middle East country.
"We are honoured to see the expression of interest from the Qatar Cycling Federation," Tour director Christian Prudhomme told the paper. "We have to first conduct racing tests so that we know the riders feel comfortable in this heat. As you know the race is held in July and that time of the year is very hot [in Qatar]."
"We have to look at other logistics also," Prudhomme continued. "Tour de France is a huge event which involves massive manpower and an incredible number of technical issues dealing with one edition of the race. It is by no means a small event. So we have to see all that and then decide."
Logistically, it could be problematic for the organisers to ship everything they need out to Doha and back again to France. It would mean a lengthy transfer for the riders, and many will not relish a boiling hot ride in the desert followed by a long flight and three further weeks of hard racing in France.
Tour organisers proved they can make a success out of a non-mainland European start for the Tour, when the race came to visit London in 2007 for the opening prologue time trial and first road stage. Race organisers, riders and fans alike all hailed the London start a major success.
In 2007, Doha submitted a bid to host the 2016 Olympic Games, but it did not make the shortlist announced in June 2008.
The Tour of Qatar is now currently running for the eighth time, having first started in 2002. The six stages are all flat, and run on dry, dusty desert roads.
RELATED LINKS
Wiggins leads Qatar after Garmin take opening team time trial
Tour of Qatar 2009 preview
EXTERNAL LINKS
Tour of Qatar: www.letour.fr
Thank you for reading 20 articles this month* Join now for unlimited access
Enjoy your first month for just £1 / $1 / €1
*Read 5 free articles per month without a subscription
Join now for unlimited access
Try first month for just £1 / $1 / €1