TOUR OF BRITAIN PROLOGUE START LIST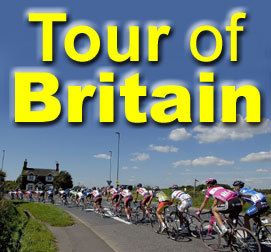 This year?s Tour of Britain kicks off with a 1.6km opening prologue time trial in Crystal Palace on Sunday.
Great Britain?s Alex Dowsett is first off at 3:01 with 2006 winner Martin Pedersen of CSC last off 4:41. Other names to watch out for include Paul Manning (Great Britain) at 3:35, Roger Hammond (T-Mobile) at 4:02, Geraint Thomas (Barloworld) at 4:09, Gordon McCauley (Plowman Craven), Robbie Hunter (Barloword) at 4:26 and Mark Cavendish (T-Mobile) at 4:36.
There will be complete coverage from the prologue and the seven-day race here at cyclingweekly.co.uk.
Complete start list:
15h01(@01'00")26Dowsett,AlexGBR
15h02(@02'00")36Swift,BenBAR
15h03(@03'00")56Bonser,AdamRCY
15h04(@04'00")44Van Poppel,BoyRB3
15h05(@05'00")86Sulzberger,BernardDFL
15h06(@06'00")76Munoz Banon,DavidFTV
15h07(@07'00")93Gaywood,SimonPCA
15h08(@08'00")102Stubbe,TomJAC
15h09(@09'00")152Clarke,SimonAIS
15h10(@10'00")142Cooke,MattNAV
15h11(@11'00")115Sneeboer,PaulDUJ
15h12(@12'00")164Knaven,ServaisTMO
15h13(@13'00")122Coutouly,CedridAGR
15h14(@14'00")63Green,RodneyKON
15h15(@15'00")131Goesinnen,FlorisSKS
15h16(@16'00")11Commesso, S TCS
15h17(@17'00")2Lund,AndersCSC
15h18(@18'00")24Hampton,RussellGBR
15h19(@19'00")35Caccia,DiegoBAR
15h20(@20'00")55Bonser,RyanRCY
15h21(@21'00")42Berkhout,ThomasRB3
15h22(@22'00")84Oliphant,EvanDFL
15h23(@23'00")74Bonilla,José AdrianFTV
15h24(@24'00")95Millard,JamesPCA
15h25(@25'00")106Hovelijnck,KurtJAC
15h26(@26'00")151Bates,GeneAIS
15h27(@27'00")143De Backer,BertNAV
15h28(@28'00")116Caldeira,SamuelDUJ
15h29(@29'00")165Rabon,FrantisekTMO
15h30(@30'00")125Bichot,FreddyAGR
15h31(@31'00")61Van Heerden,CKON
15h32(@32'00")134Deroo,DavidSKS
15h33(@33'00")13Aggiano,EliaTCS
15h34(@34'00")4Haedo,Juan JoseCSC
15h35(@35'00")21Manning,PaulGBR
15h36(@36'00")33Bonomi,GiosuèBAR
15h37(@37'00")54Diggle,TomRCY
15h38(@38'00")41Maaskant,MartijnRB3
15h39(@39'00")85Fleeman,DanielDFL
15h40(@40'00")75Artetxte,MikelFTV
15h41(@41'00")96Richardson,SimonPCA
15h42(@42'00")104Pauwels,SergeJAC
15h43(@43'00")153Walker,JohnnieAIS
15h44(@44'00")144Rodriguez,DavidNAV
15h45(@45'00")114Blanco Rodriguez,DDUJ
15h46(@46'00")166Stannard,IanTMO
15h47(@47'00")121Dekkers,HansAGR
15h48(@48'00")64Froome,ChristopherKON
15h49(@49'00")133Vierhouten,AartSKS
15h50(@50'00")14Riccio,BernardoTCS
15h51(@51'00")3Goss,MathewCSC
15h52(@52'00")25Tennant,AndrewGBR
15h53(@53'00")32Degano,EnricoBAR
15h54(@54'00")53Holt,SimonRCY
15h55(@55'00")43Keizer,MartijnRB3
15h56(@56'00")81Haynes,HamishDFL
15h57(@57'00")72Palomares,AdrianFTV
15h58(@58'00")94McCallum,JamesPCA
15h59(@59'00")105Verbist,Evert JAC
16h00(@1h00'00")145Vanmuysen,RNAV
16h01(@1h01'00")112Victorino,N DUJ
16h02(@1h02'00")163Hammond,RTMO
16h03(@1h03'00")126Vogondy,N AGR
16h04(@1h04'00")65Allen,TravisKON
16h05(@1h05'00")135V. Hummel,SKS
16h06(@1h06'00")12Contrini,DTCS
16h07(@1h07'00")5Bak,Lars YttingCSC
16h08(@1h08'00")23Bellis,JohnGBR
16h09(@1h09'00")34Thomas,GBAR
16h10(@1h10'00")52Partridge,RobRCY
16h11(@1h11'00")45Vermelfoort,CRB3
16h12(@1h12'00")83Mattan,NicoDFL
16h13(@1h13'00")73Lloret,ManuelFTV
16h14(@1h14'00")92McCauley,GPCA
16h15(@1h15'00")103De Ketele,KJAC
16h16(@1h16'00")155Sulzberger,WAIS
16h17(@1h17'00")146Wolf,MichealNAV
16h18(@1h18'00")113Mestre,RDUJ
16h19(@1h19'00")162Gerdemann,LTMO
16h20(@1h20'00")123Feillu,RomainAGR
16h21(@1h21'00")66Van Niekerk,DKON
16h22(@1h22'00")132Rooijakkers,PSKS
16h23(@1h23'00")15Serov,ATCS
16h24(@1h24'00")6Roberts,LukeCSC
16h25(@1h25'00")22Clancy,EGBR
16h26(@1h26'00")31Hunter,RobertBAR
16h27(@1h27'00")51Newton,CRCY
16h28(@1h28'00")46Veelers,TomRB3
16h29(@1h29'00")82Lloyd,DanielDFL
16h30(@1h30'00")71Bernabeu,VFTV
16h31(@1h31'00")91Gibb,TonyPCA
16h32(@1h32'00")101Caethoven,SJAC
16h33(@1h33'00")156Dempster,ZAIS
16h34(@1h34'00")141House,KristanNAV
16h35(@1h35'00")111Garrido,MDUJ
16h36(@1h36'00")161Cavindish,MTMO
16h37(@1h37'00")124Berges,EAGR
16h38(@1h38'00")62Thompson,JKON
16h39(@1h39'00")136Tjallingii,MSKS
16h40(@1h40'00")16Trusov,NTCS
16h41(@1h41'00")1Pedersen,MartinCSC
Total Riders: 101
RELEVANT LINKS
Tour of Britain 2007 preview