'Tranquility' of Saxo Bank team important, says Contador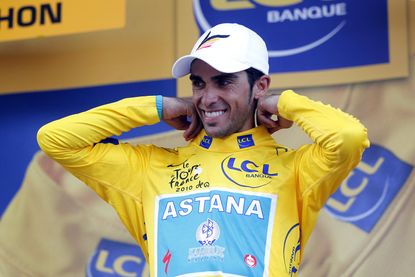 Spain's Alberto Contador has travelled a rocky road since he won his first Tour de France in 2007: force out of the 2008 edition, difficulties with team-mate Lance Armstrong and contract problems. Joining with Bjarne Riis' Saxo Bank team Tuesday for the next two years, he is ready for a certain amount of calmness.
"I come to a team with a definite philosophy, a good way to work and that gives me the tranquillity that I have not had in recent years," he said. "I am happy and eager to begin this project."
Contador raced for Spain-based teams through 2006, under the guidance of Manolo Saiz at ONCE and Liberty Seguros. Belgian Johan Bruyneel brought him into USA's Discovery Channel in 2007 as a domestique to help Ivan Basso.
However, Contador had a chance to win a stage and the young riders classification with Basso suspended for doping. He did more that and more, he won the overall victory.
With the sponsor on its way out for 2008, Bruyneel left and took Contador with him to Astana. Problem was, though, that Astana was involved in a doping scandal with Alexandre Vinokourov and Andrei Kashechkin the year before. Their problems meant that Astana failed to receive an invitation for the 2008 Tour de France.
Contador solved the problem, he won both the Giro d'Italia and the Vuelta a España instead. Celebrating the Vuelta win, he heard the news Lance Armstrong came out of retirement and would race with is former team manager, Bruyneel, in 2009.
Cycling's former "Boss" made life at the 2009 Tour de France uncomfortable for Contador, but not enough to prevent him winning a second time.
Even with Armstrong gone, Contador wanted to start fresh in another team for this year. However, he was forced to stay and finish off his third year of a three-year contract. He did and he won the Tour de France for a third time.
The rocky road has made finding Riis a pure blessing.
"No doubt the [team's] seriousness and work philosophy have been the primary reasons. That will allow me to be more relaxed," explained Contador.
Riis is one of cycling's respected tacticians and always comes home from France with some sort of win. When Contador was at home in 2008, Riis won the Tour de France with Spain's Carlos Sastre. In the last two years, he tried to beat Contador with brothers Fränk and Andy Schleck - this year falling short by 39 seconds with Andy.
Andy announced last Friday that he and his brother will leave Riis' team at the end of the season. The two are bound for the new team based in their home country of Luxembourg.
Riis will keep the secrets of the Schlecks strengths and weaknesses, sharing with Contador.
"He can tell me the weaknesses," said Contador. "It will be a good union."
Contador will finish the year with team Astana, but mostly filling his time with sponsor obligations since he has no major races planned. In his free time, he will certainly be planning with Riis for a calm couple of years.
Related links
Riis welcomes Contador and Saxo Bank's continuation
Alberto Contador: Rider Profile
Thank you for reading 20 articles this month* Join now for unlimited access
Enjoy your first month for just £1 / $1 / €1
*Read 5 free articles per month without a subscription
Join now for unlimited access
Try first month for just £1 / $1 / €1