Tributes paid to Antoine Demoitié, one year after his death at Ghent-Wevelgem
Wanty-Groupe Gobert's team says it is difficult to race Ghent-Wevelgem without Antoine Demoitié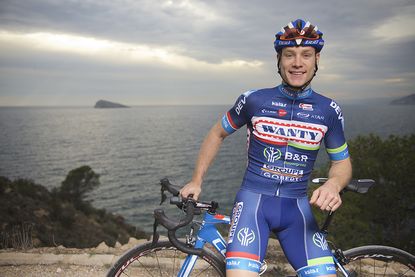 (Image credit: kramon)
Team Wanty-Groupe Gobert says that it is not easy racing in Belgium's Ghent-Wevelgem today, one year after its rider Antoine Demoitié died due to a crash.
The Belgian fell 150 kilometres into the 2016 edition when it raced over the border in France. A race motorbike collided with him immediately afterwards.
World Champion Peter Sagan won the WorldTour race while doctors attended to 25-year-old Demoitié in Lille's hospital. He failed to make it through the night, leaving behind his wife Astrid and touching cycling's family forever.
"It's an emotional day," Wanty's sports director, Hilaire Van Der Schueren told Cycling Weekly.
He rode shotgun in the team's bus to the start town in Deinze. He stepped off to confront colleagues and fans. Last year, March 27, he saw Demoitié off to his last race in the same small parking lot.
>>> Antoine Demoitié, 1990-2016
"Oh. It's not easy, but OK, when the races are going, we try to put it in the back of our minds, but it's not easy."
Race organiser Flanders Classics retired Demoitié's number 192. This year, the team used the 190 group again. Its eight cyclists have 191 through 199, but 192 remains blank.
#RideForAntoine stickers adhere to each of the team's blue Cube bicycles. Mark McNally and other riders who lived the tragic day with Demoitié last year rode from the bus to the signature podium on them.
The announcer called Demoitié's wife to the podium with the team and presented her money that she is donating to a charity. The eight sat on their bikes across the start line and led a minute's silence before departing.
"Yesterday evening in Ghent his wife came to the hotel and we spoke with her. So it's not so easy for her and it's not so easy for the team, but OK that is life," Van Der Schueren continued.
"We have four other riders who were not here with us this last year but we spoke, the whole team, and we all feel the same. I would like to win the race today and that way we can remember Antoine, but it's not so easy that's a very difficult task."
"It was a touching moment last year watching the race," said Andrea Pasqualon, who joined the team this winter. "Now, in the team, seeing their faces and hearing their memories, it gives you goose bumps even talking about it."
>>> Ghent-Wevelgem retires race number 192 in memory of Antoine Demoitié
"We'd like to show our best for him, keeping him in our heads and hearts," said Englishman McNally, who was part of Wanty's roster in 2016.
"It's strange to think of it a year ago we were here, but just like every race we will keep him in our thoughts and try to do our best for him.
"We just want to focus on the race and that's it. Emotional? Yes, but you try to keep your mind off of it."
Demoitié rode his first WorldTour race in last year's E3 Harelbeke and rode free for 100 kilometres. Those in the team would rather focus on his last happy moment than the incident along the French road.
As Demoitié would have wanted, his team continues to fight. Shortly after leaving Deinze today, McNally pushed and helped form a nine-man escape group that rode free early in the 249-kilometre Ghent-Wevelgem.
Thank you for reading 20 articles this month* Join now for unlimited access
Enjoy your first month for just £1 / $1 / €1
*Read 5 free articles per month without a subscription
Join now for unlimited access
Try first month for just £1 / $1 / €1