Tributes paid to mountain bike and cyclocross legend Steve Tilford after death at age 57
The MTB hall of famer was killed in a tragic road accident on Wednesday morning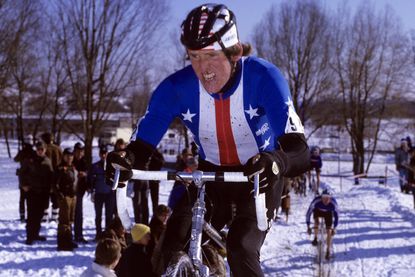 (Image credit: Watson)
The cycling community is morning the loss of cyclocross and mountain bike legend Steve Tilford, 57, of Topeak, Kansas, who was killed in the early morning hours of Wednesday in eastern Utah while travelling home to Denver from a San Diego training camp.
"The incident happened about 12.30 am when a semitrailer on I-70 drifted off the right shoulder, overcorrected while getting back on the road and tipped onto its side, blocking two of the eastbound lanes," said Utah Highway Patrol Sgt. Todd Royce.
The overturned semi came to a rest on it's side, blocking the eastbound lanes of interstate 70 at mile marker 214.
Minutes later, a Mercedes-Benz sprinter van driven by Tilford drove into the semi. Tilford and his passenger Vincent Davis were initially hurt, but able to get out of their vehicle and inspect the damage.
While standing next to their vehicle, a second semi, driven by 70-year-old Stanley Williams of Grand Junction, Colorado crashed into the initial overturned semi still blocking the interstate, then hit the sprinter van and Tilford, ultimately killing him.
Williams also died from injuries at the scene of the accident.
Davis was treated at a hospital in Grand Junction, Colorado and later release with minor injuries. The driver of the first semi was reportedly uninjured.
Tilford, inducted into the Mountain Bike Hall of Fame in 2000, was a five-time masters' world mountain bike champion and two-time masters' world cyclocross champion.
He had been an active racer across multiple disciplines since 1975 and in 1983, even held the US hour record on the track.
Some of those in the cycling community paid tribute to Tilford after the news broke.
Thank you for reading 10 articles this month* Join now for unlimited access
Enjoy your first month for just £1 / $1 / €1
*Read 5 free articles per month without a subscription
Join now for unlimited access
Try first month for just £1 / $1 / €1