Zipp launches new tubeless-ready disc brake wheelset
In San Luis Obispo, California, Zipp launches its new 30 Course wheelset, which will hit shops in May and come in at a respectable £800 a pair.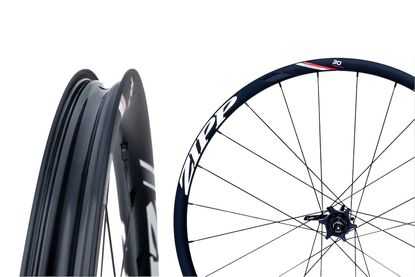 In the lush hills of California's wine region, in a beach side town called San Luis Obispo, the American brand released details of its new wheelset, named '30 Course'.
It is the first wheelset in Zipp's range to be tubeless ready, and the brand new aluminium rim is available in a clincher or tubular option. As well as breaking with tradition by offering a tubeless system as part of the range, the new 30 Course wheelset is also disc brake equipped.
>>> Are disc brakes necessary on road bikes?
The aluminium rim was developed over the last year thanks to research and knowledge gained from years of working on rim technology. This isn't a high-end wheelset though, so the rim doesn't benefit from Zipp's latest Firestrike rim technology, but instead was designed to more or less follow the same overall shape as the latest 202 Firecrest Carbon Clincher rim.
As a result, the rim is "almost identical" to the latest 202 wheelset, and so should provide a high level of performance but at a much cheaper price.
The 26mm depth is considered by Zipp to be the ideal measurement for handling all types of riding. But it's the 21mm internal width which dictated the design process, according to Zipp's Product Manager for wheels, Jason Fowler.
"We wanted a super wide rim, so that's where we started", he says. "We were also looking at the aerodynamic side, and stability in crosswinds. We had several different depths, and really what it came down to was the 26mm, which hit it from a weight and stiffness perspective".
Tubeless ready and disc brake equipped; are these the perfect do-it-all wheels? Zipp thinks so, saying that its new wheels are designed for road, cyclocross, gravel, adventure riding and racing. That's pretty much everything then.
>>> Disc brakes vs rim brakes, an aero battle
Here in the UK, where gravel mostly amounts to something scattered near a newly formed pothole, you can probably condense those five categories down to just two. Road for the summer, and cyclocross for the winter, but even so, the 30 Course wheels have arrived just in time to mix it amongst the currently exploding market place for disc braked road bikes and braking systems.
One of the major quirks amongst disc brake systems is the way you secure them, and to future proof its new wheelset, Zipp is selling them with quick release skewers, whilst also making them thru-axle compatible, because nobody, not even Zipp, is quite sure how the technology is going to develop over the next few years.
While disc braked road bikes have taken off over the last year, tubeless tyre systems remain one of cycling's biggest slow burners, with the technology taking small steps year on year in a bid to become fully accepted by cyclists in the UK, and in America.
>>> Shimano launches 105 hydraulic disc brakes
With Zipp now throwing its wheels in to the ring, joining big advocates such as Stan's NoTubes - who for years more or less single handedly pushed the technology forward - the future of tyre systems could slowly swing in the balance of tubeless, and away from tubular and clincher technology.
Zipp updated its Tangente tyre range at the end of last year, but currently it doesn't have a tubeless option in its line up to go with the wheels.
If the rim of the 30 Course is brand new, the 77/177D hubs are not. They're perhaps a noteworthy highlight though, as they're borrowed from the recently developed, and much more expensive, 202 and 303 Firecrest Carbon Clincher Disc-brake wheelsets.
Cycling Weekly currently has a pair of the 202s on test, and so far, we can say that the hubs are as smooth as you'd expect from a wheelset costing over £2000.
Weighing in at 1,655 grams for the tubeless ready clincher system, and 1,615 grams for the tubular option, the 30 Course wheelset will cost, in the UK, £800 for a pair (£355 front and £445 rear) and will be available in May.
See Zipp's website for more information about the wheels, including in-depth technical specs.
Thank you for reading 20 articles this month* Join now for unlimited access
Enjoy your first month for just £1 / $1 / €1
*Read 5 free articles per month without a subscription
Join now for unlimited access
Try first month for just £1 / $1 / €1