Leopard-Trek and RadioShack teams will merge for 2012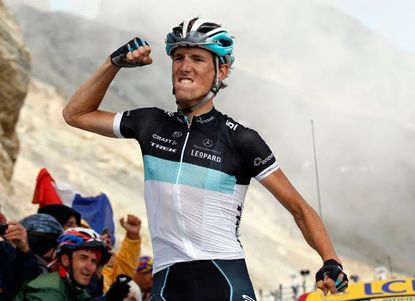 The Leopard-Trek and Radioshack teams will merge next season, according to a press release sent out by Leopard-Trek on Monday.
The team will ride under the name of RadioShack-Nissan-Trek, and continue to be based in Luxembourg using the Union Cycliste Internationale (UCI) ProTeam, WorldTour licence allocated to the Leopard-Trek squad.
RadioShack manager Johan Bruyneel is expected to take the helm, although this has not been officially announced.
Speculation has been rife for the past few days regarding the future of Leopard-Trek after both French newspaper L'Equipe and Italian publication La Gazzetta dello Sport ran articles about the merger of the squad with RadioShack at the end of the season.
"Leopard announces that RadioShack and Nissan are joining the Leopard-Trek World Tour Team as sponsors for the 2012 and 2013 seasons," said a Leopard team statement.
It had been expected that Leopard-Trek would find a title sponsor earlier this season, and specifically before its high-profile debut at the Tour de France in July, but no lead sponsor stepped forward leaving owner Flavio Becca to foot the squad's bills.
"As we stated in January, 2011 would be our apprentice-year," Becca said in the statement. "We intend to improve upon our results. In modern cycling you cannot move forward without strong sponsors. It is in this respect that today is a further milestone in the development of this exciting young project, which has gained the trust of two well-established players in the world of professional cycling.
"I continue to believe in the bright future of our athletes and have high expectations for the performance of this team. This is a major strategic move for all partners involved."
Leopard-Trek riders appeared not to know anything about the impending changes affecting the squad before the statement was issued on Monday. The intended merger will undoubedly leave riders from both teams without a team for next season despite them holding a contract for 2012 and beyond.
The team will include Andy Schleck, Frank Schleck and Fabian Cancellara from Leopard-Trek alongside RadioShack riders Chris Horner, Andreas Kloden, current US champion Matthew Busche, Janez Brajkovic, Nelson Oliveira and Robert Wagner.
Bruyneel is the former manager of Lance Armstrong's seven-times Tour de France winning teams: US Postal and Discovery Channel. He was also the manager of Alberto Contador's Astana team when the Spaniard won the Tour in 2009, before moving to American-based RadioShack team for 2010.
Leopard-Trek's current general manager Bryan Nygaard is rumoured to be moving to the new Australian GreenEdge team to work as its press officer - the role that he held briefly with the British-based Sky team last season and Saxo Bank before that.
Related links
RadioShack and Leopard-Trek teams to merge?
Thank you for reading 20 articles this month* Join now for unlimited access
Enjoy your first month for just £1 / $1 / €1
*Read 5 free articles per month without a subscription
Join now for unlimited access
Try first month for just £1 / $1 / €1