Strava and other technologies could be fuelling exercise addiction in cyclists
New study has found that endurance athletes using connected health technologies and social media have an increased risk of addiction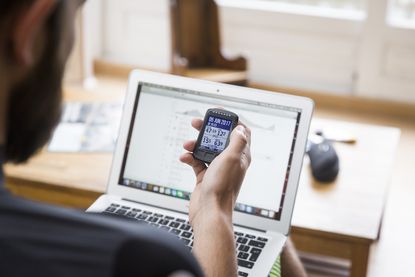 (Image credit: chris catchpole)
New research has shown that endurance athletes using technology and social media to log and record their training are more at risk of becoming addicted to exercise.
The study looked at cyclists as well as runners and triathletes, who used platforms such as Strava and fitness trackers.
The research - which looked at 255 athletes - determined that technologies often designed to help those with poor fitness to increase their exercise levels were also being used extensively by ultra-endurance athletes, in some cases pushing them into exercise addiction.
Of the cyclists, 39.6 per cent were found to be at risk of addiction - a lower percentage than the wider group of endurance athletes, at 44.7 per cent.
"What was eye-opening in this study was that technologies like Strava or Garmin were driving some athletes to deviate from their own 'real life' goals," said Chartered Sports Psychologist, Dr Josephine Perry.
The results were published by Performance in Mind - Perry's sports psychology consultancy.
"The way these technologies allow athletes to compare their data to others can cause some to worry about what others think and is pushing them to question themselves or second guess their coaches or training plans," Perry said.
"In some cases, the athletes reported this had caused them to become injured or to burnout. Others stopped them enjoying their sport and began to label themselves a failure."
Those using a larger number of technologies in their sport were found to have the highest risk of exercise addiction.
Of those surveyed, 92 per cent used GPS trackers and 84 per cent used online trackers whilst 70 per cent were Facebook users.
Exercise addiction was classified as when a person uses exercise to modify their mood, requires increasingly higher doses, gets frustrated and angry at the thought of missing a session, sees physiological changes if they try to withdraw and then relapses when stopping, and risks losing control over their exercising habits.
"Exercise addiction is a really under researched area, but one which is important for sports psychologists, coaches and athletes to know more about as it can cause such distress for athletes, and sometimes their families too," explained Perry.
"Diligence and focus is necessary in order to be a great endurance athlete but when we get too absorbed and inflexible around our training, particularly if we are intently tracking our data, we can lose sight of our real goals and cause ourselves harm," she added.
In-depth interviews with athletes revealed that many were using technology to seek out online communities and that whilst they valued the relationships found, they also used them to extensively compare themselves to other athletes - causing stress and pressure.
Thank you for reading 20 articles this month* Join now for unlimited access
Enjoy your first month for just £1 / $1 / €1
*Read 5 free articles per month without a subscription
Join now for unlimited access
Try first month for just £1 / $1 / €1