Peter Sagan and 100% launch new retro Glendale sunglasses
Peter Sagan, muscle cars and big glasses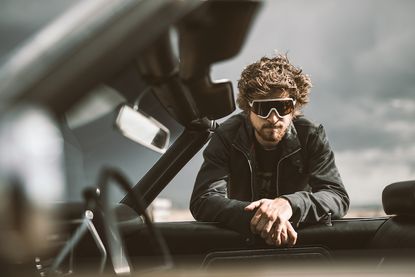 Cycling glasses brand 100% has announced the Glendale glasses, a new set of riding specs that launch today.
The new glasses use the brand's Cylindrical shield lenses, which sit inside the brand's TR90 frame, which it says is shatterproof and lightweight.
The glasses are available with both the standard lens with a Hydrolio treatment which should help the glasses shed water and dirt. The glasses will also be available with 100%'s HiPER lens, which increases the definition and contrast.
From the pictures, the new glasses have a similar look to the 100% Speedcraft glasses, albeit with a 1980s twist. The new glasses also have a frame round the bottom whereas the Speedcraft's don't.
These also look like they could be the biggest glasses that the brand produce and they come with adjustable rubber nose and temple tips that apparently can help customise the fit.
The glasses come in four different colours including black, yellow, blue and white.
Watch: Best aero bikes for 2019
As is the case with most 100% glasses, the new Glendales were designed in cooperation with Peter Sagan who apparently wanted to share his love of 1980's American design and muscle cars with 100%.
According to Sagan, the design process was a nice break from his usual day-to-day routine. "I have very little time in my life for anything outside training, media work and racing". However, he continues by saying that this partnership with 100% would allow him to bridge the gap between one of his life passions - America vintage muscle cars and racing.
On the design, Marc Blanchard, Creative Director at 100% said "we had to ensure we could deliver a unique blend of vintage-modern Americana design while continuing to include all the latest eyewear technology we are already known for".
Thank you for reading 10 articles this month* Join now for unlimited access
Enjoy your first month for just £1 / $1 / €1
*Read 5 free articles per month without a subscription
Join now for unlimited access
Try first month for just £1 / $1 / €1