Strava rolls out its post feature to all users, as well as a totally redesigned home screen
But should they also release a down vote button?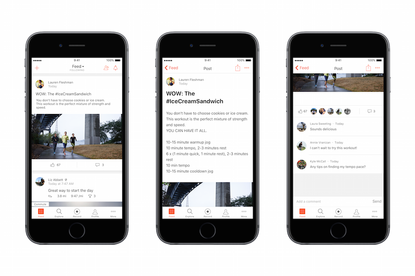 Strava announced back in May a new "post" feature, allowing certain riders to note down their thoughts about their latest ride.
Now though, the sport based social media is rolling it out to everyone, hoping all users will share anything from their stories, articles they like or even their favourite energy bar recipes.
>>> Strava thread goes viral as riders squabble about 'stealing KOMs' and 'cyber bulling'
The aim, according to Strava is to become the hub of social sports. It wants its athletes to engage with one another, ask questions, share useful tips and engage with each other.
A similar idea has been previously been done by Strava Storyteller, a web-based app that let you write an account of your ride through a browser extension.
But now Strava has taken on the idea, and developed it, facilitating Strava as a social media, a home for their athletic life. To this end, the update accompanies a rollout of a completely new redesign of the Strava homepage, making it easy to see your friend's activities and track your workouts.
Watch: How to upload a Strava route to your Garmin
The new feature is now available for all, and you don't need to have had your account updated by Strava, who says it could take a week to roll out completely. In the new top right corner, you can access the post feature.
Strava says the new feed "highlights photos and displays group activities that feature all of the athletes involved.
>>> Are you a Strava addict?
"Strava is an active community of people who are passionate about their sports." says James Quarles, Strava CEO.
He continued, "we want to create more ways for the community to share their interests and expertise. Posts and the new feed make Strava the best place to tell a story about someone you met on the trails, ask a question about new gear or to seek kindred spirits to help achieve your goals."
Previously, Strava limited the new post features to 36 of its selected riders and athletes, letting them trial the new updates. Now though, it has rolled it out to the tens of millions of athletes that use the social network.
Thank you for reading 5 articles this month* Join now for unlimited access
Enjoy your first month for just £1 / $1 / €1
*Read 5 free articles per month without a subscription
Join now for unlimited access
Try first month for just £1 / $1 / €1