Bollé launches Shifter sunglasses with AG2R
New model to be worn by Bardet and team at the Tour de France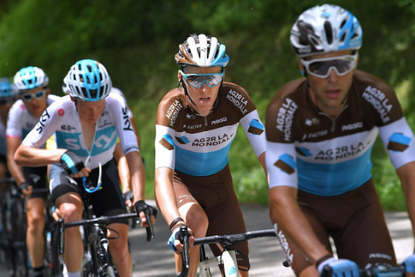 Bollé has launched a new sunglass model ahead of the tour de France and to be worn by the AG2R La Mondiale team of Romain Bardet. The Shifter sunglasses come hot on the heels of Factor's announcement that AG2R would be riding custom painted limited editions of its O2 climber's bike at the Tour.
Bollé has been a fixture at the Tour since 1958, when it launched its first cycling-specific sunglasses.
>>> Three helmets in one? Bollé launches a transforming lid
Bollé describes the new Shifter glasses as retro-futuristic. They're based on the brand's Chrono Shield of yesteryear. So there's a large, single piece shield lens made of NXT material, for a wide field of vision. Bollé also cites the material's optical clarity and impact resistance.
>>> The best cycling glasses 2018: a buyer's guide
The side pieces have a wrap-around design to ensure that there's plenty of skin contact for improved comfort and grip, without impeding helmet straps. Bollé says that the nose pads, made of the same hydrophobic rubber, also help ensure grip when the heat is on.
There are large slit air vents across the bottom of the lens, to promote airflow and help prevent fogging, while the lens surface is treated against water and dirt, to ensure that it stays clear whatever the conditions. There's also a range of lens tints for different light levels and cloud cover.
Bollé will offer the Shifter in a range of seven colours, of which AG2R will wear the light blue and white versions. As well as plain lenses, the Shifter glasses will fit prescription lenses, with Bollé offering lenses for prescriptions from +6 to -8.
Retail availability of the Bollé Shifter will be from September.
Thank you for reading 20 articles this month* Join now for unlimited access
Enjoy your first month for just £1 / $1 / €1
*Read 5 free articles per month without a subscription
Join now for unlimited access
Try first month for just £1 / $1 / €1