Factor releases limited edition Bardet and Champs Élysées O2 framesets
Frames and complete bikes as ridden by AG2R La Mondiale at the Tour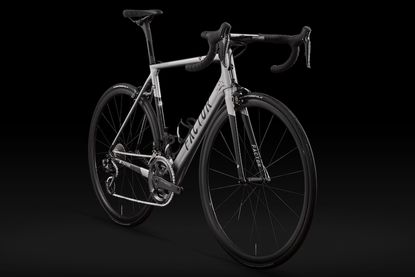 Ahead of the start of the Tour de France, Factor bikes has unveiled two limited edition colour schemes of its O2 climber's bike.
There was a Bardet Limited Edition bike last year too and like that frame, this year's version has Bardet's motto "Take the risk or lose the chance" emblazoned on the top tube. Let's see if Bardet heeds that advice.
Factor says that its aims were to inspire Bardet, but also to raise funds for his children's charity. Bardet said: "I'm delighted by this new bike. The design, colour and all-around aesthetics are amazing. This is a classy bike."
The Bardet Limited Edition will be sold in just 200 pieces. It comes with a mix of exposed carbon and silver paint. There's also an image on the down tube of Vercingetorix, who united the Gauls in Bardet's home region of the Auvergne to repulse the advance of Julius Caesar (it didn't end well). There's a silhouette of local landmark - and erstwhile Tour stage finish- the Puy de Dome on the down tube too.
Factor says that all AG2R's riders supporting Bardet will be on the O2 Champs Élysées bike for this year's tour and that the frameset will also be available to buy, although limited to just 100 frames, available as either rim or disc brake specs. There's a clear lacquer finish to show the carbon, coupled to "celestial blue" metallic paint.
Both the Bardet and Champs Élysées frames also come with water bottle cages and bar-stem from Black Inc, Factor's component brand, as well as CeramicSpeed bottom bracket and headset bearings.
>>> SRM and Look link up for new Exakt pedal based power meter
The O2 Bardet frame will cost $5499 and the Champs Élysées $5249. Or for $18,460 you can buy one of 10 Romain Bardet replica bikes, with exactly the spec to be raced by Bardet. It's kitted out with Dura-Ace Di2, Mavic Cosmic Ultimate tubular wheels and SRM Carbon cranks with a PC8 head unit. Factor even throws in a matching pair of Mavic's £900 Comete Ultimate shoes.
Thank you for reading 20 articles this month* Join now for unlimited access
Enjoy your first month for just £1 / $1 / €1
*Read 5 free articles per month without a subscription
Join now for unlimited access
Try first month for just £1 / $1 / €1