Check out this clever new bike brake light (video)
Once in a while you see an invention where you think 'how has no one made one of these before?' The IIumenox rear bike brake light appears to be just that.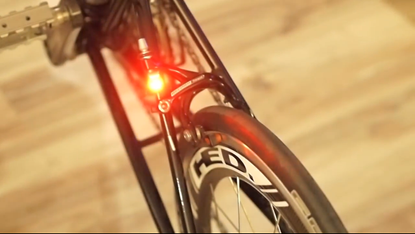 https://www.youtube.com/watch?v=WbMIIORrWdk
Take a look at the featured video that demonstrates the product in action. By linking the braking cable action, the light turns on when the brake is applied.
>>> For a buyers guide to bike lights, click here
The product appears to be very small, light and simple in design. The makers claim that the light can be installed without using a tool and is compatible with V-brakes, side pull callipers and direct mount brakes. The light is turned on by a clever, but simple steel leaf spring switch.
>>> For the latest cycling wearable tech, click here
Crucially, it is claimed that the Nano bike brake light does not affect braking performance in any way. A second video displays the product with more detail.
https://www.youtube.com/watch?v=DUUBSf1fQDY
The product features a high brightness LED and is rain proof. By using a CR1025 coin battery, the makers claim a constant run time of 50 hours, which we think is rather impressive.
With diminutive dimensions of 31mm by 16mm by 30mm, the light has a claimed weight of only 5.5g with battery. We think bike brake light is a really cool invention that would be useful while commuting and group riding. What do you think? Let us know in the comments.
For more information, head over to Iluminox's website
Thank you for reading 5 articles this month* Join now for unlimited access
Enjoy your first month for just £1 / $1 / €1
*Read 5 free articles per month without a subscription
Join now for unlimited access
Try first month for just £1 / $1 / €1
Oliver Bridgewood - no, Doctor Oliver Bridgewood - is a PhD Chemist who discovered a love of cycling. He enjoys racing time trials, hill climbs, road races and criteriums. During his time at Cycling Weekly, he worked predominantly within the tech team, also utilising his science background to produce insightful fitness articles, before moving to an entirely video-focused role heading up the Cycling Weekly YouTube channel, where his feature-length documentary 'Project 49' was his crowning glory.