Is direct-drive the future for turbo-trainers?
We ask whether the direct-drive turbo trainers are the way forward over conventional 'wheel-in' trainers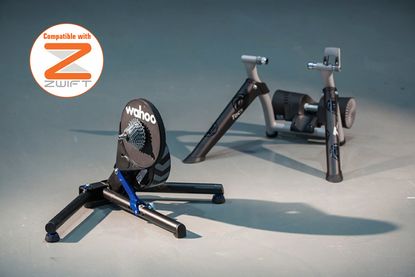 Get The Leadout Newsletter
The latest race content, interviews, features, reviews and expert buying guides, direct to your inbox!
Thank you for signing up to The Pick. You will receive a verification email shortly.
There was a problem. Please refresh the page and try again.
When LeMond introduced the Revolution turbo-trainer in 2010, its wheel off, direct-drive design looked almost gimmicky.
Fast forward to the present day and almost every indoor trainer brand has at least one direct-drive design in its range. So will we see all future trainers going in this direction?
Traditionally, turbo-trainers rely on friction generated between the rear tyre and a roller, allowing you to 'ride' indoors.
The roller is usually connected to a resistance unit and mounted within a frame designed to lift the rear wheel from the floor.
>>> Turbo training sessions: Get the most out of your indoor training
Direct-drive trainers, however, do away with the rear wheel entirely. Most enable a standard cassette to be fitted to the drive unit so the trainer is connected directly via the chain. And herein lays the benefits of the system.
Trainers utilise a heavy flywheel to generate momentum and thus create a more realistic simulation of riding on the road.
The direct-drive approach moves it from the outside of the wheel to a more central, hub-based position.
>>> Eight ways to make your turbo sessions more enjoyable
This creates a better real-world feel to the way the bike reacts to power input and when freewheeling. Tacx's latest Neo Smart trainer can even simulate the experience of riding on pavé, something a traditional system would not be able to replicate.
CycleOps product manager, Justin Henkel explains why direct-drive is the ideal choice for the top-end Hammer trainer: "Traction between the tyre and roller is a limiting factor to the amount of rotating mass that can be used with a wheel on trainer. Higher rotating mass gives the trainer a more realistic feel."
Need a new turbo?
Pinpoint accuracy
As more cyclists than ever are now working with power meters and following training plans, accuracy of wattage measurement and resistance is crucial.
Direct-drive eliminates inaccuracies created through wheel slippage and roller tension inconsistencies.
Using the drivetrain allows assisted 'smart' trainers to measure and produce wattage very accurately; Elite claims to within +/- 1W for its Drivio; the most accurate wheel-driven trainers might be upwards of five watts out.
>>> Top 10 turbo training mistakes
With the increasing popularity of third party VR software such as Zwift, this power accuracy enables a more immersive experience than ever before.
Pertinent to the majority of users of indoor trainers is the potential obtrusiveness of the noise generated.
>>> Should you buy a smart turbo trainer?
While the original LeMond unit produced an ear-splitting 101dB (equivalent to a motorbike engine!), the latest direct-drive trainers can claim to be the quietest of all trainer types. Wahoo's latest Kickr trainer measures quieter than a normal conversation at just 61dB.
Another bonus is the lack of tyre wear. No longer do you have to choose between fitting a spare wheel or damaging your expensive race tyres.
Is this it for wheel-driven trainers ?
For all the advantages of a direct-drive trainer, wheel-driven units still hold sway for some very good reasons.
From a practical aspect, wheel-driven trainers tend to be easier to transport and fold away when not needed.
>>> Zwift: Everything you need to know
Setting up for a quick spin is as easy as tightening the trainer to the rear skewer. The other critical factor is budget.
Direct-drive trainers are still expensive when compared to a wheel-based trainer, for reasons explained by Henkel: "The internal drive system on a direct-drive trainer is a much more complex design; more parts make it more expensive."
Our take
Direct-drive trainers are worth considering for winter training. For riders looking to maximise their training and perhaps use VR and training software such as Trainer Road and Zwift, the benefits of a smart direct-drive trainer are apparent.
Wheel-driven trainers still have great appeal, though, and will continue to be popular. They are accessible to riders at every budget level, so look set to be around for a long time to come.
Make your sessions count
Expert view: Chip Hawkins, CEO of Wahoo
"A direct-drive trainer has many advantages over a wheel-on trainer. The one that people usually notice first is that a direct-drive trainer eliminates the issue of tyre wear. While that is a big plus for direct-drive trainers, the real advantage is a little less tangible.
"The biggest advantage is that it doesn't incur the unnatural frictional drag created by pressing a roller against the tyre hard enough to not slip.
"The lower frictional drag, in combination with the high inertia flywheel, allows the wheel to continue spinning naturally through the dead spots in a pedal stroke as they do on the road.
"Wheel-on trainers have a lot of variables that you don't have to take into account when using a direct-drive trainer.
"Tyre pressure, tyre wear, tyre type, roller tension, and numerous other factors can all affect how your wheel-on trainer performs. Changes to these variables can throw off power readings, accuracy, and adversely affect overall ride feel."
Thank you for reading 20 articles this month* Join now for unlimited access
Enjoy your first month for just £1 / $1 / €1
*Read 5 free articles per month without a subscription
Join now for unlimited access
Try first month for just £1 / $1 / €1
Get The Leadout Newsletter
The latest race content, interviews, features, reviews and expert buying guides, direct to your inbox!
James Bracey's career has seen him move from geography teacher, to MBR writer, to Cycling Weekly's senior tech writer and video presenter. He possesses an in-depth knowledge of bicycle mechanics, as well as bike fit and coaching qualifications. Bracey enjoys all manner of cycling, from road to gravel and mountain biking.