Dissent133 glove layering system from Hunt Bike Wheels tackles cold hands
Four glove system keeps out the cold and wet whatever the weather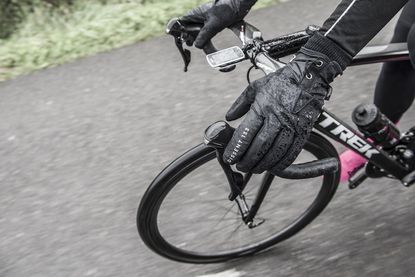 As the temperature drops, we're abandoning our summer mitts now. But working out how warm to keep your hands is difficult at this time of year. And you can get cold from wet hands even in the midst of summer.
So the guys behind UK-based Hunt Bike Wheels have come up with the Dissent133 glove layering system. It consists of four different gloves, which can be mixed and matched for the perfect set-up to tackle any conditions – there's a total of 11 different combinations.
>>> Winter cycling survival guide: 10 tips to keep you riding
First up is the OutdryLite waterproof outer glove. It's waterproof and windproof, but still breathable and light enough not to impair shifting. The fabric is also elastic for a good fit. There are touch screen fingertips to prod your Garmin with and a waterproof Velcro fastening as well as reflectives. Price is £55.
If you're out on a day when you don't need heavy duty waterproofing, the ShowerLite glove should work for you. It's less water resistant and lighter than the OutdryLite, but still with a breathable membrane built in. It's designed to be packable too and is priced at £30.
When things start getting colder, the Defeet DuraGlove e-Touch glove should help. It's made by Defeet and is knitted and seamless, so there's no rubbing. The palm and fingers incorporate silicone grippers and there's a touch screen middle finger. It works on its own when it's just cool or can be layered up for wet and cold protection. It costs £23 a pair.
Finally, there's a silk base layer liner glove. At £13 it provides an additional lightweight layer under the DuraGlove midlayer glove or can be layered up under the DuraGlove and an outer glove, giving three layers for full-on winter riding.
As well as ordering the gloves separately, you can order a windproof pack of three gloves for £58, a waterproof pack for £80 or the full set of four for £95. More details and ordering on the Dissent133 website.
Hunt points out that there are 133 days of rain a year on average in the southern UK, so you're likely to get plenty of use out of its gloves. And if the sun does come out, the layered approach means that you can stash a set of gloves away during your ride.
>>> Cycling in the rain: how to survive it (video)
It also means that the gloves are easier to take on and off, as they are not prone to the liner inverting, like many winter gloves. The different gloves can be washed separately and dry faster than an all-in-one insulated glove too.
The Dissent133 gloves have sold out for October delivery. But the next batch is due at the end of December. So you can look forward to toasty hands on your January rides.
Thank you for reading 5 articles this month* Join now for unlimited access
Enjoy your first month for just £1 / $1 / €1
*Read 5 free articles per month without a subscription
Join now for unlimited access
Try first month for just £1 / $1 / €1