Eat my bib shorts! – State Bicycle Co partner with The Simpsons for limited edition kit
State Bicycle Co and The Simpsons team up to release awesome limited edition range of urban cycling products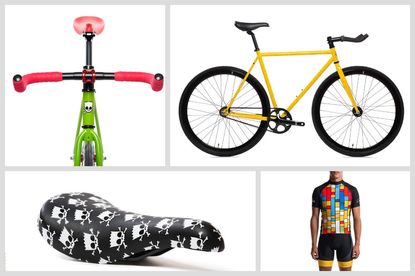 American company State Bicycle Co has partnered with 20th Century Fox to release a range of The Simpsons inspired kit and bikes.
The range, which will land at the end of this month, consists of three limited edition, complete bikes with kit to match, all inspired by The Simpsons.
>>> Spring cycling clothing: a buyer's guide (video)
State Bicycle Co says that each complete bike has a set of kit to match, including bib shorts, a jersey as well as socks and caps.
According to the brand, more jerseys will be made available later in the year featuring iconic characters from the long running TV series, including Itchy and Scratchy and Otto man.
Supposedly, an accessories range featuring saddles through to water bottles and even backpacks will be possible, all inspired by Homer's favourite snacks.
>>> Are single–ring chainsets the future?
For now, though, fans of the TV show will be able to get their hands on the complete bikes or just the frames made up in "Bart and Crossbone, the Springfield character wrap and the Color Block".
State Bicycle Co has said that it "could not be more excited to partner with The Simpsons brand", continuing that "the TV show has been part of popular culture for so long and that we feel the partnership will have emotional value for our customers".
State Bicycle Co are known for their urban cycling range that includes single speed bikes, as well as fixies and wide variety of accessory products.
In particular, we're big fans of the Bart and Crossbone saddle as well as the full character wrap single speed bike that will be available later in the year. Of course, The Simpsons Color Block inspired cotton caps are pretty wicked, too.
Thank you for reading 20 articles this month* Join now for unlimited access
Enjoy your first month for just £1 / $1 / €1
*Read 5 free articles per month without a subscription
Join now for unlimited access
Try first month for just £1 / $1 / €1