Focus launches Paralane2 sub-13kg e-bike
Motor and battery can be removed; bike uses a new road boost axle standard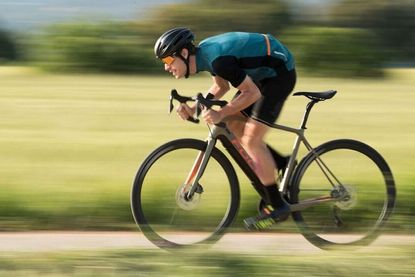 At Sea Otter Europe in Girona, Focus has announced its new Paralane2 e-road bike, with a headline weight under 13kg. With an integrated motor and a 250Wh battery tucked away in the down tube, it says that the new bike will push you along with up to 400 watts of extra power and 60Nm of torque.
Focus says that its motor adds no resistance once you're riding at speeds above its threshold, so that the Paralane2 rides like a normal, if slightly heavier, road bike.
Focus's design also lets you remove the battery pack and motor, so you can ride the Paralane2 like a standard road bike too. This reduces the weight to below 10kg.
At the heart of the Paralane2 is a full carbon frameset with thru-axles. But the axle standard used is its own, new road boost. Developed in collaboration with DT Swiss, this has a 110x12mm front thru-axle and a 148x12mm rear axle, upping the game on the usual road bike thru-axle standards.
Focus says that its road boost format optimises shifting and creates a quieter, more durable drivetrain. The thru-axles use Focus's own RAT Evo II quick release mechanism for rapid wheel removal.
There's clearance for 35mm tyres and, like the human-powered Paralane, the Paralane2 has endurance geometry, in-built comfort features and ships with mudguards. Focus says that it's thought of riders wanting to ride off-tarmac and exploit the bike's versatility.
Focus says that the Paralane2 will bring a new dynamic to road riding and open up new challenges to riders. It's got some ideas of what could be done with the new e-bike, but is keen to see where and how its riders make use of its capabilities.
>>> Focus bikes: which model is right for you?
The Paralane2 joins a crop of new, lighter, more road bike-like e-bikes, with Orbea having launched the Gain e-bike last year and Wilier announcing the sub-12kg Cento1Hy e-bike a couple of weeks ago.
Focus will sell the Paralane2 in four sizes from Small to Extra Large and four spec levels with Euro prices ranging from €5199 up to €10499. Availability is planned from end-June.
Thank you for reading 5 articles this month* Join now for unlimited access
Enjoy your first month for just £1 / $1 / €1
*Read 5 free articles per month without a subscription
Join now for unlimited access
Try first month for just £1 / $1 / €1