For the love of Lotus: The story behind the iconic Lotus type 110 bike
Tony Wybrott has made it his mission in life to track down all the Lotus 110 bikes ever made. CW headed to Brands Hatch to find out why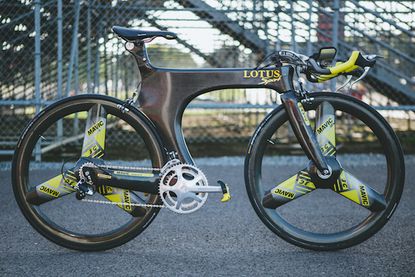 (Image credit: Chris Lanaway)
Some people like to dabble in genealogy, but Tony Wybrott's ancestry project is something far more exotic.
The 'family' the New Zealand engineer is trying to trace are 263 Lotus type 110 bikes he helped create while working at DPS Composites, the Surrey firm that built the prototypes and the first batch for Lotus in 1993. Since he started his search two years ago Wybrott has already got 67 in his register just through word of mouth and social media.
At the Lotus Festival at Brands Hatch last month Wybrott and his newly formed Lotus 110 (pronounced 'one-ten') Club exhibited 12 bikes, which Wybrott thinks is the biggest gathering of the iconic machines since Chris Boardman and the GAN team rode them for their final season in 1995.
"There's quite a few GAN ones here," says Wybrott, straining to be heard above the V8 rather than pedal-powered Lotuses that are screaming down the Brabham Straight on the other side of the grandstand.
"They all come from people who worked at Lotus. After they'd finished the 1995 season they all came back to Lotus and nobody could decide what to do with them."
>>> Icons of Cycling: Francesco Moser's 1984 Hour Record bike
One of those former workers at Lotus HQ in Hethel, Norfolk, is Nick Adams, whose 110 had belonged to Boardman and that Adams had restored and rebuilt in as close to 1994 spec as possible in time for the festival.
"The two-year supply contract was up and they came back from GAN in a big cardboard box and sat in the corner of the office for a week and we all stared at them," remembers Adams. "Then we asked what was happening with them because I fancied one and they said, 'Well, we're just going to scrap them.'
"I said to Artioli [Romano Artioli, Lotus chairman 1993-1996], 'Can we not buy them?' He said, 'Well, how much?' I thought, go cheap, and said '£100?' And he went, 'OK.' And that was that. They were all sold for £100 each.
"Being the shy, retiring type I barged my way to the front of the queue and made sure I got the one with Boardman's name on it."
Another Lotus in the line-up is completely unrestored, bearing the name of GAN rider Pascal Lance as well as the scars of almost a decade of subsequent use as a hack bike.
"My aunt and uncle worked at Lotus," says its owner, Matt Purdon. "My aunt bought this one, gave it to my dad and he commuted to work on it for eight years. He rode it from Southend to Canvey Island every day, rain or shine, rode it through the woods, just treated it like a bike. So now it makes my bedroom look very cool. It's a family heirloom. I absolutely love it."
Other Lotuses on the stand, belonging to Dan Sadler and Michael Porter, are still in use in domestic time trials. The monocoque design, although banned in professional cycling following the UCI's Lugano Charter of 1996, is still legal in events run under Cycling Time Trials rules and regulations in Britain. And it was only relatively recently that the Lotus 110's aerodynamic performance was finally surpassed by the top UCI-legal diamond-shaped time trial frames.
Traceable assets
"I have a register so that if they get sold we've got some sort of traceability," says Wybrott, who doesn't say what the chances of finding all 263 are. "If someone knows someone who's got one I try to get in touch with them. Most of the time they're reasonably helpful. A lot of people just say, 'Yes I've got one,' and that's it.
"There's a good spread all over the world. There's a guy in Australia has one, there's a guy in New Zealand has a museum and is a bike fanatic, and then obviously quite a few people in England."
What compelled Wybrott to start looking for the 263 Lotus 110s 24 years after he started work on them?
"When we had one in our foyer at DPS Composites that had been damaged in transit and I asked if I could have it because I was a keen cyclist they said yes, it would be nice to see it used. And then I thought, having been involved in making them, it would be nice to find where they all went. I had a look on the Lotus website, a couple of people got in touch and over the last couple of years with Facebook one thing led to another."
>>> The top 10 revolutionary road bikes that changed the world of cycling
Wybrott recalls how Lotus came to DPS Composites with the concept of building the 110 in 1993 and the specialist Bookham-based firm, which usually made parts for motor racing, turned the bike into a reality.
"We built six development ones that went to Lotus and then we did a batch of 50. Because we were a motor racing-orientated company, when they wanted to build the next order of 100 it was a very busy time of year for us so we couldn't really entertain it.
They'd found that they could have them made in South Africa at a much more competitive price so that's where they went and that's when it became the Aerodyne Lotus. They went on making them and I believe stopped at 263."
Aerodyne made new moulds rather than use the ones made by DPS. Wybrott points out the difference between the two: "The South African Lotuses have a cut-out for the front derailleur where there was a bit of interference and they have a different bottom bracket shell — though both were made for standard bottom brackets. The original ones we made had Royce square-taper units."
Twist of fate
In another twist of fate that echoed the sale of the GAN bikes to the Lotus staff, one of the Lotus moulds was rediscovered during the clearout when DPS Composites was closing down 12 years later to go into aerospace manufacturing. "A chap I used to work with said, 'Oh, you might as well have that as a souvenir,'" says Wybrott.
Wybrott has laid up a new half-Lotus to give a tantalising glimpse of what a 2017 Lotus might look like. "I've made a little splash out of it to show people different carbon weaves with a bit more modern technology."
Wybrott points to an area of blank, weaveless material: "This is a new system that's designed for car panels that need painting. It's used on most supercars. They had trouble with carbon-fibre; it started to go yellow in the sun and when it gets hot the resin sinks back. So this is what they call an A-surface for a motor manufacturer."
>>> Nine of the best bicycles designed by car companies
So could Wybrott actually remake an entire Lotus 110 using F1-grade carbon-fibre? "No, because I only have this half of the mould," he laughs.
"The other half would have had a joggle in it where it fitted under so the two halves come together and that was the bonding surface. I don't know where that went. Possibly back to Lotus. There's another mould that makes the piece behind the bottom bracket and chainstays. Then the three pieces all bond together."
One of a kind
Evidently with the UCI's Lugano Charter banning monocoque frames still in effect and the wherewithal to remake it lost forever, the Lotus 110 is consigned to history.
"We came to the end of the road with GAN," says Richard Hill, Lotus chief aerodynamicist and the bike's designer.
"Originally the 108 pursuit bike for the Barcelona Olympics was a PR exercise. The 110 was an extension of that with the Tour de France and it just ran its course. The bikes were then banned and there was no other mechanism for promoting anything to do with the company any more. And we all had other things to do. It had its day.
"Now you have to have the triangulated design and there are some very nice-looking modern bikes out there but there will never be anything that looks quite like this."
How an icon was born
Richard Hill is chief aerodynamicist at Lotus and designed both the 1992 Olympic gold-winning Lotus 108 and the roadgoing Lotus 110, on which Boardman rode the fastest ever average speed in a Tour de France time trial in 1994, a record that stood for 21 years.
At Brands Hatch he chose to station himself at the Lotus 110 gazebo rather than with any of the Lotus car clubs, saying he was "here for the bikes" and that he found it "staggering, gratifying and bemusing that it still has this level of interest".
Why does he think this is?
"I guess half the thing is it doesn't look old; it doesn't look dated. Because all the rules have changed and there isn't anything on the market that looks anything like it."
Hill recalls how the original pursuit bike for Chris Boardman had been "a six-month project from December '91 to summer '92, Barcelona. Literally it was, 'We'll go for it,' so it was six months of weekends and evenings. It was a fairly tight programme and obviously very successful so we thought, well what do we do with it from here? It had been a PR exercise really to show off what we do in engineering and it did exactly what it was intended to do — drew a lot of interest."
In 1993 Hill started designing a roadgoing Lotus bike that Boardman and the GAN team could use in the Tour de France.
"The 108 was designed to be as thin as possible. It had a monoblade, the rear wheel was offset by 16mm and tucked into the rear chainstay and it was designed to be a track bike purely for the velodrome.
"The 110 was obviously for the road, designed for a standard groupset so that anybody could put any equipment on it. It wasn't designed to be the lightest bike as it was aimed at the time triallists where you don't need ultimate low weight, you just need good efficiency once you're up to speed and it was designed to have a degree of compliance.
"It had to have forks and chainstays to accommodate standard wheels but then we went for the cantilever chainstays for a bit of suspension — designed to flex plus or minus 2mm. We didn't need the same level of rigidity and it almost twists so that when you're in a rhythm the bottom bracket flexing from side to side actually aids the motion of the rider and bike.
"It was designed to be less torsionally stiff than the 108, to have more compliance vertically and to take a standard groupset and to have an adjustable seatpost. It was a bike that was designed to be used by anybody, rather than the 108 which was very specifically designed around Chris. That was one bike designed for one man for one race. The 110 was for anybody."
Nick Adams's bike
"This is one of the GAN frames Boardman rode — not the [1994] prologue one because the decals are in a different place," says Nick Adams, former Lotus engineer who didn't actually work on the bike: "I gazed with longing out of the window of my dark and dingy little office where I was worrying about air fuel ratios and spark advance and things like that.
"This is my copy of the bars. I wasn't able to find any drawings so they're based on a combination of picking Richard Hill's brains and looking at all the pictures I could find. They're pretty close. I used a fabricator called DJ Fabrications in Norfolk to made the bars. I prepare race cars for a living and I use DJ for a lot of my fabrication work. I gave him a whole pile of drawings, sketches and photographs and said I want a pair of
those please."
Tom Edwards's bike
Tom Edwards is the link between the Lotus Festival and the Lotus 110 Club. Owning both a Lotus Evora and a Lotus 110 and knowing the organiser of the festival, he pulled strings so that the bikes could not only exhibit at Brands Hatch but also ride on the track in between the motor racing events.
Edwards's 110 was also built up especially for the festival.
"It used to belong to David Clarkson, who was mechanic for Chris Boardman. When he retired the team gave him this frame as a retirement present. He did the odd time trial and said he even used it on his rollers. But it didn't get a lot of use and because he was a mechanic he had looked after it. But it was all modern components.
"So I tracked down all second-hand and NOS Mavic components and my design brief was to create a replica of the bike Boardman rode to win the 1994 World Championship time trial. Then I handed it all to [mechanic] Rohan Dubash and said, 'Can you make it work?'
"It took me a year to find all the components and then three weeks for Rohan to pull it all together. It's fantastic. It rides like nothing I've ever ridden."
Thank you for reading 20 articles this month* Join now for unlimited access
Enjoy your first month for just £1 / $1 / €1
*Read 5 free articles per month without a subscription
Join now for unlimited access
Try first month for just £1 / $1 / €1