Could this invention revolutionise the way you fix punctures?
This 'ingenious' invention could change the way you fix punctures on your bike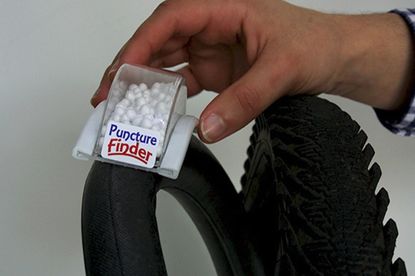 The Puncture Finder is the new product from Mr Graham How, a British inventor compay that has developed a new way for you to locate the hole in your tube.
Basically, it's a "pocket-sized" plastic box that contains polystyrene beads, which, when placed over a puncture are agitated by the escaping air revealing where the hole is.
>>> How to puncture proof your tyres (video)
https://www.youtube.com/watch?v=dzGN0qgwFp0
Supposedly, to make it work you inflate the tube and then move the box along it until the polystyrene beads starting floating. We were sceptical but the video actually made it look quite useful, and a lot more efficient than the "old" methods.
>>> Tacks at the side of road cause numerous punctures in Regent's Park
Innovate Product Design are hoping that it'll be light enough to carry on rides, however most riders will usually just fit a new tube and save the repairing for when they're home.
Still, it'll be useable later on and should save you the hassle of having to fill up a bowl of water and splash around for 15 minutes until you find the offending hole.
Even better, the Puncture Finder will ship with a free puncture repair kit so you can finally start fixing old tubes, rather than just binning 'em and buying new ones.
Graham How collaborated with British company Innovate Product Design, who help inventors secure patents for their products.
According the Innovate Product Design, the Puncture Finder will cost £9.99 and come with a free puncture repair kit.
Thank you for reading 10 articles this month* Join now for unlimited access
Enjoy your first month for just £1 / $1 / €1
*Read 5 free articles per month without a subscription
Join now for unlimited access
Try first month for just £1 / $1 / €1