Lezyne launches two large format Mega GPS units
Mega XL and Colour units come with larger screens and long battery life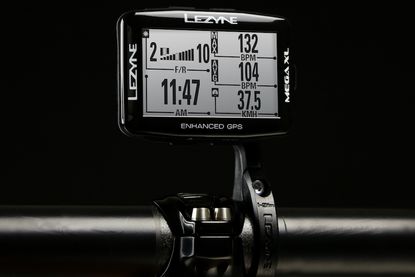 Lezyne has launched two new large format GPS units, with the Mega XL being unusual in being usable in both landscape and portrait orientations on the bike, and displaying up to 10 data fields across five pages.
The Mega Colour is 77mm high and 51mm wide, with a 2.2 inch 240 x 320 pixel colour screen, while the Mega XL sizes up at 58mm x 78mm with an even larger 2.7 inch diagonal 240 x 400 pixel monochrome screen. Lezyne claims run times of 35 hours for the Colour unit and 48 hours for the XL. You can customise data pages and fields displayed too.
Both units come with mapping and navigation which works both on line and off line. Off line, you can download a map and build a route on the Lezyne Ally app, then download them to the unit. This will then give you turn by turn navigation and rerouting even if you do not have an internet connection.
The units work with the Ally phone app to provide other functions like live tracking. Like Lezyne's other units, you get automatic syncing with Lezyne's own GPS Root app, as well as with Strava, Training Peaks and others. The units also support Strava Live segments.
Lezyne emphasises the units' robustness and reliability over challenging terrain.
The Mega XL and Mega Colour GPSs both retail at £180. You can also get a "Loaded" version of both for £270, packaged with a heart rate monitor, speed and cadence sensor, two mounts and a charging cable.
Thank you for reading 20 articles this month* Join now for unlimited access
Enjoy your first month for just £1 / $1 / €1
*Read 5 free articles per month without a subscription
Join now for unlimited access
Try first month for just £1 / $1 / €1