Limar launches new Air Speed helmet on the heads of Astana
First of four new aero lids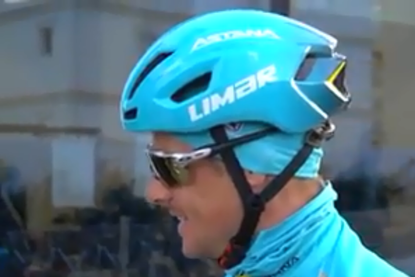 The new Limar Air Speed helmet has been developed with the Astana Pro Team to provide advanced aerodynamics in a road helmet. It's been drag tested at the Magny Cours wind tunnel facility in France, with Limar saying that its results show that the new helmet is as aero as a full time trial helmet.
>>> What's it like inside a state of the art wind tunnel?
Previously, Limar has focussed on light weight, with its 175g Ultralight+ claimed to be the world's lightest lid. But the new helmet is promised to be one of four new aero helmets to be launched by the brand this year, part of its Air Range.
The new Air Speed uses a newly developed micro retention system developed by Limar. Astana says that it will first be used competitively at the Comunidad de Valenciana race on 31st January.
http://www.youtube.com/watch?v=8qfE6fVUNys
Limar says that UK stock will be available from June 2018, with a provisional retail price of £179.99 and six different colour options.
Thank you for reading 5 articles this month* Join now for unlimited access
Enjoy your first month for just £1 / $1 / €1
*Read 5 free articles per month without a subscription
Join now for unlimited access
Try first month for just £1 / $1 / €1