Meet the Fenix 5 series – Garmin's new watches with a female focus
Garmin has announced its Fenix 5 series, its latest lineup of multi-sport watches billed for athletes, adventurers and women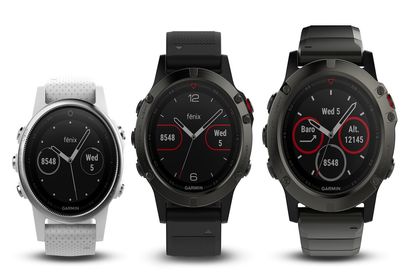 Garmin has announced its answer to the multi-sized, multi-sported athlete with the Fenix 5 series – a multi-sized watch lineup.
Buy now:
So, what's new? Well, Garmin claim the new line of watches are special because they come in multiple sizes, which supposedly fits athletes 'of all sizes' – including women.
>>> Garmin Edge: A buyers guide
While it's not a female only line, it was did have a female specific focus. The new lineup features three watches: the Fenix 5S, the Fenix 5 and the Fenix 5X.
The Fenix 5S lies at the smaller end of the scale, and according to Garmin it's smaller than any of the previous Fenix range. In fact, Garmin claim that it is the "first Fenix designed with a focus on female athletes".
Meanwhile, at the heftier end of the scale, the Fenix 5X features pre-loaded, wrist-based mapping.
>>> Garmin Edge 820 first ride
All three of the watches in the new lineup feature extended battery life, daily activity tracking, Garmin Elevate heart rate technology as standard. Similarly, the company claims they're all capable of built-in navigation.
There are some new features, though. Garmin has introduced a new "performance widget".
According to the company, this keeps "relevant user training stats right at their finger tips". There's also some new training features, including the monitoring of training status as well as a fully integrated heart rate sensor.
Watch: Cycling Weekly's Tech of the Month
At its heart though, the Fenix 5 series is a multisport collective. Garmin say that all three watches come pre-loaded with multisport features such as running, cycling and swimming. Plus, the company claims they'll even support Strava live segments.
Similarly, Garmin claim that all 3 watches boast smart connected features, meaning you can receive notifications on the go. Likewise, the watches are customisable with apps, widgets, data fields and watch faces, all downloadable from the Connect IQ store.
Happily, in conjunction with this release, Garmin has announced an expansion of the Connect IQ store. It now features content from the likes of Trek and UBER.
Buy now:
Garmin have even taken care of you're accessorising, too. According to the watch company, the new QuickFit bands can now be changed without a tool, and feature multiple colours.
Thank you for reading 20 articles this month* Join now for unlimited access
Enjoy your first month for just £1 / $1 / €1
*Read 5 free articles per month without a subscription
Join now for unlimited access
Try first month for just £1 / $1 / €1