Garmin expands Connect IQ with apps from Trek, Uber and more
Garmin has expanded its Connect IQ store with brand new apps from the likes of Trek and Uber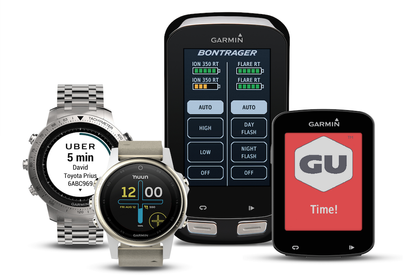 Garmin cycling computers are about to become more customisable thanks to the expanding Connect IQ store, Garmin has announced.
The expansion was announced at CES 2017 in Las Vegas and includes new apps, widgets and data fields. You'll now be able to customise your watch or Garmin Edge with content from major bike companies such as Trek, as well as the likes of UBER.
>>> Garmin Edge computers: a complete buyer's guide
Trek's first foray into the world of Connect IQ looks set for the tech geeks out there. It'll allow you to control your Bontrager light sets from your handlebars, similar to the Garmin Varia smart lights.
For the Strav-athletes, there's now a Live Suffer Score data field. It'll tell you just how much your hurting, incase you couldn't tell already.
Depending on how well you manage your energy in take, GU Energy Labs could also have made a very useful data field. It'll tell you the most opportune time to take a gel as well as rehydrate.
>>> Garmin Edge 820: first ride
It looks like Garmin are trying to make cycling social, too. The new widget JOIN will make it dead easy for you to join on a group ride at anytime. We'd recommend asking first, though...
Finally, if you've just got too tired to carry on you can now check on your UBER status through your Garmin wearable. It'll tell you where it is, whose driving and other details such as number plate and registration.
Watch Cycling Weekly's Tech of the Month
>>> 12 cool things you didn't know your Garmin could do
It's a big step by the wearables company, who are looking to expand their Connect IQ ecosystem. Their aim, they state, is to make "customizing your Garmin device both useful and fun".
Connect IQ has existed for a couple of years, and is an open platform for third party developers, similar to the App Store. It allows users to download content for Garmin wearables.
Do you have a favourite data field, widget or app you use on every ride? Let us know and we'll check it out.
Thank you for reading 20 articles this month* Join now for unlimited access
Enjoy your first month for just £1 / $1 / €1
*Read 5 free articles per month without a subscription
Join now for unlimited access
Try first month for just £1 / $1 / €1