New Le Col branded Colnago C64 launched
The two premium brands continue their collaboration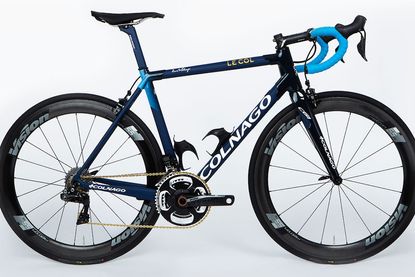 If you watched ITV's coverage of the Tour of Britain last month, you'll have seen Le Col's owner, ex-pro Yanto Barker, previewing the final kilometre of each stage aboard his Colnago C64. Now you can buy a limited edition C64 frameset in Le Col livery yourself.
The new Le Col x Colnago C64 was on show at this year's Colnago Owners' Day. It comes with blue paintwork which fades from light to deep blue and stippled highlights on the lugs. As with all Colnago's bikes, you get Ernesto Colnago's signature on the top tube, at the front end of which is the gold Le Col logo.
The C64 is the latest in the C series from the iconic Italian brand. Still headed by founder Ernesto Colnago, it's been making bikes since 1954. That's over 64 years – hence the bike's name. In its time, it's made bikes for Eddy Merckx as well as currently providing the C64 to the UAE Team Emirates pro team.
Founded in 2011, Le Col's profile has increased significantly in the last few years, with its jersey sponsorship at the Tour of Britain and its latest Le Col by Wiggins clothing range. It also makes Cycling Weekly's clothing range, which like all its products is made in Le Col's own factory in Treviso, Italy.
The Colnago C64 continues Colnago's lugged frameset design, with custom carbon tubing hand cut and bonded into the carbon lugs. But unlike its predecessor, the C60, the C64 has a one-piece seat tube, and lugs, which Colnago says adds rigidity and decreases weight. Other changes include a new aero seatpost.
>>> Inside Colnago: the making of a legendary brand
The Le Col x Colnago C64 is available as a frameset only in rim and disc brake variants and in a range of 14 sizes. It's priced at £4449.
Thank you for reading 5 articles this month* Join now for unlimited access
Enjoy your first month for just £1 / $1 / €1
*Read 5 free articles per month without a subscription
Join now for unlimited access
Try first month for just £1 / $1 / €1