Now Specialized helmets call for help if you crash
New ANGi tech detects a crash and sends out an alert. All 2019 helmets will come with a MIPS option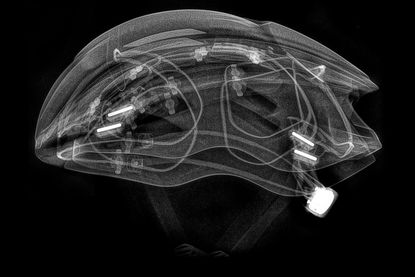 Get The Leadout Newsletter
The latest race content, interviews, features, reviews and expert buying guides, direct to your inbox!
Thank you for signing up to The Pick. You will receive a verification email shortly.
There was a problem. Please refresh the page and try again.
ANGi stands for Angular and G-Force Indicator. It's a patented sensor with an accelerometer and gyroscope, which is mounted on Specialized's helmets and detects a crash, working with a phone app as a safety beacon to alert your preferred contacts. As well as impact forces, it also measures rotational forces, even if there's no actual impact on the helmet.
Specialized says that from the start of 2019, all its helmets will either include an ANGi sensor or have an attachment point for the device, which can be purchased separately from its retailers and its website. The ANGi sensor runs for a claimed six months on a single CR2032 cell. Once you've finished your ride, it will go into sleep mode.
>>> How to successfully bounce back after a crash
The sensor pairs via Bluetooth with a smartphone running Specialized's Ride App. All ANGi helmet and sensor purchases include a free one year subscription to the Ride Premium app and the app can be linked up to Strava. After the first year, a premium Ride App subscription costs $29.99 for a year.
During the ride, if the sensor detects the high forces usually associated with a crash, it will send an alert to your phone, sound an alarm and begin a countdown. Cancel the countdown and you can just keep riding.
But if you don't cancel it during the configured countdown time, the Ride App will send a text alert to your designated emergency contacts. Plus it sends out your GPS co-ordinates, as detected by your phone, so they know where to find you.
In addition, Spesh's app lets you record where you're planning to ride and your expected ride duration before you set out and can provide your contacts with real-time tracking of your progress. If you stray outside mobile coverage during your ride and have not got back by your expected time, the device will send your contacts an alert with your last recorded location.
Specialized will fit ANGi sensors as standard to its S-Works Evade II, S-Works Prevail II and Prospero helmets from 2019, as well as its top of the line MTB and youth helmets. Both Strava and Garmin also offer crash alert options, but Specialized says that the helmet location of its sensor means that it is better able to avoid false alarms.
And MIPS options in all Specialized helmets
Spesh has also announced that all its helmets will now be available as a MIPS version. MIPS helps add extra protection against shear forces in glancing impacts.
There are four different versions of MIPS used across the helmet range, with top end helmets getting MIPS SL, a Specialized exclusive. Rather than a separate liner, MIPS SL incorporates the MIPS layer behind the helmet's padding. Spesh says that it's more comfortable as well as being lighter, whilst still be as effective as the separate liner.
MIPS SL will be available on the S-Works TT, S-Works Evade II and S-Works Prevail II helmets.
Thank you for reading 20 articles this month* Join now for unlimited access
Enjoy your first month for just £1 / $1 / €1
*Read 5 free articles per month without a subscription
Join now for unlimited access
Try first month for just £1 / $1 / €1