Raleigh Chopper: bicycle classic
As Raleigh revives its iconic kids' bike, we take a look at the Chopper's history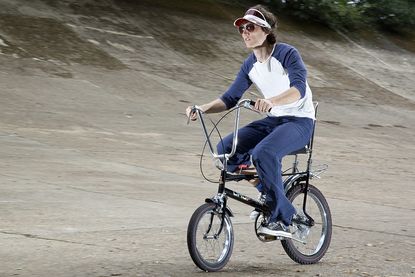 Get The Leadout Newsletter
The latest race content, interviews, features, reviews and expert buying guides, direct to your inbox!
Thank you for signing up to The Pick. You will receive a verification email shortly.
There was a problem. Please refresh the page and try again.
The Raleigh Chopper is back! Besides a limited run in 2004, fans of the iconic British-built kids' bike can now get their hands on a new Chopper for the first time since it went out of production in 1980.
The Chopper is a cult classic. It's the bike every boy (and many a girl) of a certain generation can remember unwrapping by the Christmas tree. There's no other bike that even comes close to stirring up that kind of warm, nostalgic fuzziness. For a few people, though, the Raleigh Chopper has never disappeared.
"I haven't got as big a collection as I used to, unfortunately," says Daren Sykes, who runs 'The One Stop Chopper Shop' website selling Chopper spare parts and memorabilia. "I have kept 64 of my own but I did reach 218."
Sykes is also part of a worldwide Raleigh Chopper Owners Club (RCOC), which every year sees 3,000 Chopper enthusiasts congregate near Northampton to celebrate all things Chopper. Yes, they were heavy: 18.5kg. Yes, they were expensive: £32 for the first editions back in 1969, the equivalent of around £800 in today's money. And yes, the central-mounted gearshift meant they were groin-threateningly dangerous to ride. But Raleigh sold 1.5 million of them, reportedly saving it from bankruptcy, and today no bike can claim to have such a cult following or collectors' market in the UK.
"It's iconic, everybody remembers it," Sykes adds. "It was so different. Before it, we had sit-up-and-beg bikes with rod brakes, and suddenly you've got this bike which looks totally different with a big wheel at the back and a little wheel at the front."
"My first Chopper was a horizon blue one, which was second-hand. My parents paid £7.50 for it along with 14 packets of Green Shield saving stamps. Bearing in mind my dad was on £8.95 a week, it was a week's wages."
These days, £7.50 and some saving stamps wouldn't get you much vintage Chopper. Prices on online auction sites start at around £100, although you've got to part with £500 to get anything near the two-wheeled magnificence of the shimmering, stickered steel you remember unwrapping to the soundtrack of Slade's 'Merry Xmas Everybody' in 1973.
Collectible examples
"The most expensive I've seen went for over £7,000 and that was a boxed MkI 10-speed still wrapped up in its box," Sykes adds. "The most I paid for one was for a 10-speed, brand spanking new. I did a deal with a guy in America, for nine MkIIs and four MkIs for the bike."
Part of the appeal of collecting Choppers comes down to their sheer variety. Raleigh made three 'marks' but hundreds of different options; three, five and 10-speeds; dropped handlebars; and a few rarities where the factory had to shift old stock and blended old parts with new.
The cult of Chopper even has its own creation myth: the late Raleigh designer Alan Oakley, flying back from a research trip to the US to see the Chopper's pre-cursor, the Schwinn Stingray, famously sketched designs for the first prototype on the back of an airmail envelope. Also, since they were handmade in Raleigh's Nottingham factory, the odd 'Friday afternoon job' with upside-down stickers sometimes crops up too.
Chopper royalty
"It still gives me a buzz," Sykes says. "Some of them come with pictures of the kid next to the Christmas tree, and some have the original receipt with them showing how much they paid down at Halfords."
The holy grail of Chopper collecting, according to Sykes, is a certain version of the special edition Chopper released for Christmas 1976 to commemorate the Queen's silver jubilee the following year.
"768 special edition jubilees were made," he explains. "But they only had 762 sets
of alloy wheels, so a few came out with steel wheels on them.
"I've got one which nobody has beaten yet," he adds. "Bearing in mind that Alan Oakley came back on November 3, 1968, I've got a hub-dated MkI Chopper which is from December 11, 1968. I paid a hell of a lot of money for that: £5,500."
It's unlikely that many of today's kids will actually get to experience the thrill of riding one of the brand new Choppers; most of the limited edition new models have already been sold to collectors. But don't for one moment think they'll spend eternity gathering dust.
"Oh yeah, I still ride them," Sykes adds. "For my partner's birthday, we rode along Worthing promenade, six of us, parked up at a chippy, sat on the seafront and had some chips."
Timeline of the Chopper
1967: Initial designs for the Chopper are sketched on the back of an envelope by designer Alan Oakley while returning from a research trip to America.
1968: First Chopper prototypes tested.
1969: First-version Raleigh Chopper released in the UK, featuring a choice of single speed, three or five-speed Sturmey Archer hub gears.
1970: MkI Chopper released.
1972: MkII Chopper released, including five-speed derailleur option and modified gear handle.
1972-3: Chopper Sprint released, featuring drop handlebars.
1976: Gold-plated Chopper marks the production of the millionth Chopper.
1976-77: Production of the Raleigh Chopper Special Edition.
1980: Production of MkII Chopper ceases.
2004: The MkIII Chopper is reintroduced, featuring aluminium tubing and handlebar mounted shifters.
2012: Chopper designer Alan Oakley dies.
2014: Halfords begins selling the limited edition Chopper 'Hot One.'
The Chopper's Greatest Hits
Pop stardom
The Chopper cemented its cult status when tricked-out versions were ridden by members of Oxford-based Britpop band Supergrass in the video for their breakthrough 90s single 'Alright'.
http://www.youtube.com/watch?v=qUE4oDunYkc
Summit of Ventoux
Matt Richardson smashed his way up the Giant of Provence on a bog-standard MkII Chopper, claiming to have overtaken 41 cyclists on the way up. Here's video proof:
http://www.youtube.com/watch?v=qNaqRgGOuQQ
Bling
To mark the millionth Chopper made, a special gold-plated version rolled off the production line in 1976. Currently housed at Brooklands Museum, over 1.5m Choppers were eventually made.
Extreme stunts
Comedian Johnny Vegas once rode a Chopper into a swimming pool, apparently after crashing on the first six attempts. Now that's rock n' roll.
Celebrity backing
David Beckham was rumoured to have bought one of the MkIII Choppers released in 2004, allegedly reserving number 23 (to match his shirt number at Real Madrid). Other famous Chopper fans are believed to include Blur's Damon Albarn, former England goalie David James and post-modern pop princess Lady Gaga.
Alternative icons: If you didn't have a Chopper…
It wasn't just about the Raleigh Chopper for kids of the Seventies and Eighties…
Raleigh Grifter
The cheap and cheerful (and morbidly heavy) successor to the Chopper had a little bit of BMX in its blood and therefore sold by the bucket-load.
Raleigh Budgie
The single-speed mini version of the Chopper, on which, as a concession to toddler safety and Britain's continued population growth, Raleigh ditched the top-tube-mounted gear lever.
Raleigh Tomahawk
A slightly shrunken Chopper with a mini front wheel; production actually continued well beyond its big brother's. But it wasn't called a Chopper, and so no one noticed.
Raleigh Commando
A slightly military-themed spin-off (well, it had a textured chrome chainguard) that looked like the forgotten lovechild of Chopper and a Brompton folding bike.
Raleigh Chippy
Raleigh successfully marketised every stage of a child's development with the minute Chippy, equipped with stabilisers, a direct-drive front wheel and a spoke pattern that looked like chopped courgettes.
Schwinn Stingray
The bike that started it all off; the inspiration for the Chopper had a generation of American kids popping wheelies five years before us Brits even set eyes on the Chopper.
Childhood bike memories: Happy Days
Paul Gripton
Grifter with emergency services three-tone siren and the front mudguard turned up rubbing against the tyre, sounded like a motorbike... or so I used to think anyway!
Richard Charnock
Blue Grifter. Got it for Christmas, sat on it eating my Christmas dinner.
Jules Tipler
We were a Grifter household. If memory serves they weighed a ruddy ton but where bomb-proof. Happy days!
Ady Hall
Pale blue Chopper; thought I could corner like Barry Sheene... I was wrong! And had scabby knees to prove it.
Mike Price
I want this bike so much! But I'm 49.
Fergus Todd
I had the Tomahawk which was the Chopper's younger brother. No gears, great bike, pranged it though coming down a hill getting a speed wobble on. Moved on to a Raleigh Super Burner after that. Ah, great days.
Julian Ayling
The Chopper was great — I still have the broken front tooth to remind me.
Dan Vogel
As a child, I had the good sense to pick a Raleigh Grand Prix 10-speed for my first real bike. Thought the Chopper bikes were a stupid fad, and the Grand Prix was cheaper!
Raleigh Chopper Hot One: a modern take on the old classic
British firm Raleigh has launched a range of lightweight, well-specced kids machines, for ages three and up
Thank you for reading 20 articles this month* Join now for unlimited access
Enjoy your first month for just £1 / $1 / €1
*Read 5 free articles per month without a subscription
Join now for unlimited access
Try first month for just £1 / $1 / €1
Get The Leadout Newsletter
The latest race content, interviews, features, reviews and expert buying guides, direct to your inbox!
Richard Abraham is an award-winning writer, based in New Zealand. He has reported from major sporting events including the Tour de France and Olympic Games, and is also a part-time travel guide who has delivered luxury cycle tours and events across Europe. In 2019 he was awarded Writer of the Year at the PPA Awards.