Rapha expands its adventure line with new Cargo bib tights
Rapha steps further into the world of adventure riding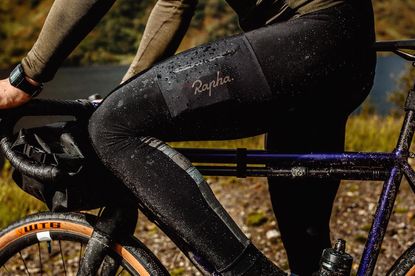 (Image credit: Jake Stangel)
Rapha has announced a new set of cargo bib tights, designed for big adventures in the cold winter months, pockets and all.
Rapha says the new tights have been produced off the back of the success of the Rapha Cargo bib shorts produced in the summer.
With the extra material that the tights offer, Rapha has added large reflective panelling down the back of the calf as well as a reflective stripe in the driver's line of site. The bib tights have also been updated with a water repellent, fleece-backed fabric for extra warmth.
Unchanged is the radical pocket design, and the tights have two pockets on the lower back and one on either leg. More specifically, the left leg and lower back pockets have waterproof zips.
The Rapha Cargo tights are available now on the Rapha website and retail for £240.
The Rapha Explore collection continues with two products that Rapha says 'defy convention'. Released back in the summer, the Cargo shorts were the first product to feature four pockets; two on the legs and two on the lower back. The shorts are made of Rapha's Shadow fabric which is water-resistant and Rapha also says it has a fast drying chamois. The Rapha Cargo shorts retail for £195.
The Explore range is rounded out by the Rapha Technical T-Shirt, which the brand says is for those days when you'd rather not wear a jersey. According to the brand, it's made from the same fabric as the Flyweight jersey but it has a loser fit and a 'micro-mesh' construction for improved airflow and fast drying.
Additional safety features include reflective stripes across the chest and Rapha has added an antibacterial coating on the fabric that will supposedly help it remain fresh on multi-day rides. It will retail for £65.
Thank you for reading 20 articles this month* Join now for unlimited access
Enjoy your first month for just £1 / $1 / €1
*Read 5 free articles per month without a subscription
Join now for unlimited access
Try first month for just £1 / $1 / €1