Shimano Ultegra Di2 11-speed launched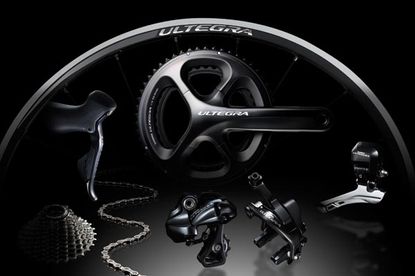 The launch of Ultegra Di2 6870 today finally sees the last of Shimano's groupset extravaganza. Having seen 11-speed launched throughout the Dura-Ace range and Ultegra mechanical it hardly takes a professor of mathematics to calculate that next up it's Ultegra Di2's turn to get turned up to 11.
While it only seems like yesterday we were waxing lyrical about Ultegra Di2 (which we prompty coined Ui2) bringing electronic shifting to the masses, it was in fact nearly three years ago.
In gaining the 11th sprocket, Ui2 also benefits from trickle down technology thanks to Pro level Dura-Ace Di2 - 9070. Key highlights are the larger paddle shifter making it easier to shift down from the hoods.
With Dura-Ace adopting the generic 'E-tube' cabling, all electronic groupsets (don't forget Alfine - Ai2) are now compatible , meaning that with the help of a five-port junction box tri-bar-end shifters make their way across to the Ultegra family for the first time. The other benefit, with a quick software re-jig is the ability to deploy the 'multishift' function, although the ability to shift multiple gears with one elongated hold of the paddle will have more appeal to some than others.
One upgrade that Ultegra gains over Dura-Ace is, as with the mechanical version, the extra large 32-tooth sprocket. This in turn means requirement for Shimano to also release two rear mechs, a standard short and the longer-armed GS mech to enable sufficient reach. This is also good news for hill-fearing Dura-Ace riders, as the above mentioned compatibility also goes the other way, giving them a road specific 32t cassette and corresponding mech (as opposed to the mountain bike specific XTR cassette and mech combo that Wiggins rode at the Giro).
Moving over to the four-arm spider, the crankset is now harmonised with the rest of the range, unfortunately gaining an extra sprocket does, according to Shimano necessitate the requirement for new chainrings - the 'pick up' and 'drop down' points have been re-engineered to take account of the new spacing at the rear. The older 6770 chainrings probably would work, but expect the results akin to shifting gear with a stretched cable.
If you have already got Ui2, and are looking to save a few quid, its worth noting that thanks to the 'brain' element of the shift is located in the front and rear mechs, this means you can avoid purchasing new STIs, add in brakes calipers and of course all the wiring to this and you save in the region of £600.
All of this of course does come at a cost, and then there's the need to factor in new wheels - or at least a new free hub, presuming you're not already running Mavic wheels which have been 11spd compatible for a number of years.
Shimano unveils hydraulic disc brake system for road bikes >>
Contact: www.madison.co.uk
Ultegra 6870 prices
Rear derailleur Ultegra Di2 6870 £219.99
Front derailleur Ultegra Di2 6870 £199.99
STI gear shifters Ultegra Di2 6870 from £299.99
E-tube SEIS handlebar cable set from £89.99
E-tube SEIS frame cable set £209.99
E-tube SEIS wire lengths from 300mm £19.99
E-tube SEIS battery mount £99.99
E-tube SEIS battery - internal £129.99
E-tube SEIS battery - external £59.99
Battery charger from £64.99
STI gear shifters ST-R785 Di2 inc caliper £599.99
Disc brake rotor - single £54.99
Thank you for reading 5 articles this month* Join now for unlimited access
Enjoy your first month for just £1 / $1 / €1
*Read 5 free articles per month without a subscription
Join now for unlimited access
Try first month for just £1 / $1 / €1