The new Canyon Ultimate CF SLX - First ride
Having been spotted at the Route du Sud, the new Canyon Ultimate CF SLX is unveiled. We took it for a spin with Nairo Quintana...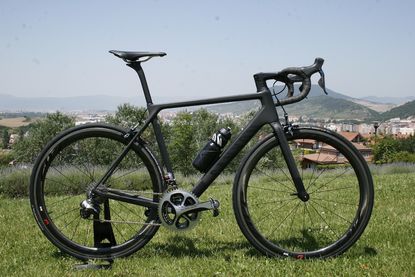 Get The Leadout Newsletter
The latest race content, interviews, features, reviews and expert buying guides, direct to your inbox!
Thank you for signing up to The Pick. You will receive a verification email shortly.
There was a problem. Please refresh the page and try again.
Over the course of three generations, the Canyon Ultimate has built up quite a pedigree, although it may have escaped you, such has been the rapid rise of the German bike manufactuer.
2009 saw Cadel win the World Championship road race astride an Ultimate, in 2012 Alexander Kristoff won bronze in the Olympic Games road race and followed it with victory in the 2014 edition Milan San Remo.
2014 also was the year Nairo Quintana comprehensivley won the Giro d'Italia.
With a Grand Tour, World Championship and Monument all to its name Canyon has not rested on its laurels, and has sought to further improve the Ultimate even further.
I travelled to Pamplona, Spain for Canyon's launch of the new bike. From flights to transfers, meals to presentations, the timetable was very detailed and precisely executed. The German stereotypes ring true – everything is thought out, carefully planned and executed. It would appear that this attention to detail and planning is mirrored in how Canyon approaches bike design.
The new bike has been in development for three years with Canyon proudly hailing the bike as "engineering perfection". The engineers told us that development of the new bike has been a "four way race, trying to balance stiffness to weight, aerodynamics, industrial design and comfort".
Aerodynamics
Having extensively tested the new bike in wind tunnels, at yaw angles ranging from +20º to –20º at 0.5º increments, Canyon claims that the new Ulitmate is 7.4 watts more efficient at 45kph than the old model, with the aero cockpit saving an additional 5.5 watts. A total of 12.9 watts saved.
This has been achieved by adopting Kamm tail like tube sections, similar to that found on the new Merida Scultura. These cross-sections provide the drag reducing benefits of an aerofoil, but by slicing the trailing edge off weight is reduced. Canyon has also worked to improve the head tube, by following a similar approach to the Aeroad CF SLX.
To improve the drag coeficient they have made the front more pointy as well as giving it an hourglass profile, which decreases the frontal area.
Canyon is still retaining the wider 1 1/4in steerer tube, as although this limits your stem choice, the engineers claim it offers far superior front end stiffness.
Comfort
Increased comfort was one of the main design objectives for the new Ultimate. Canyon engineer, Sebastian Hofer explained that "Comfort can make you fast, it is there to boost your perfomace and make you fresher for longer – you can measure it and you can optimise it."
Canyon is claiming that the new bike is 15% more comfortable than the previous generation. A large proportion of this comfort is said to come from a revolutionary new seat clamp design.
The clamp bolt is 10cm lower down the tube and features a synthetic polymer insert in the seat post. The clamping force is transfered onto an aluminium press on this insert. Canyon engineers explained that "the hybrid injection moulded synthetic insert is one of the most complex injection moulded components Canyon has ever developed and consists of three parts: a fibre-reinforced base, a soft seal where the seat tube ends and an aluminium press to transfer the tightening screw's force onto the seatpost."
To see it more clearly there is a transparent model pictured above. This novel clamping mechanism allows the post to flex with 37% more horizontal deflection and 15% vertical deflection, while reducing saddle tilt by 13%.
Stiffness to Weight
The design of the previous, Giro-conquering Ultimate focussed on minimising weight. The design challenge on the new Ultimate CF SLX was to maintain stiffness and low weight, while also improving aerodynamics. Design-Engineer Michael Adomeit explained "the greatest challenge in trying to overcome the aero versus stiffness-to-weight conflict lay in getting all the tube profiles exactly right.
The new frame is claimed to weigh 780g for a 56cm frame, 10g less than the previous Ultimate CF SLX. While the fork is a claimed 295g, the total frame set being around 1130g. Hofer pointed out that "what is a frame worth if it is 600g but as soft as a bouncy castle? That is something for weight weenies."
"The existing Ultimate was very stiff, but Canyon needed to reshape the tubes to optimise aerodynamics. This posed significant design challenges with regards to the new carbon lay up. A lot of people talk about high modulus and ultra high modulus, but you need a mixture of these types. The higher the modulus, the more brittle it gets so you need other fibres to offset this."
The new Ultimate employs a mix of performance-based high tensile (HT), high modulus (HM) and intermediate modulus (IM) fibres. Only through combining these three different fibre types has Canyon been achieve its design objectives.
Other Features
Other design details worthy of note are updated and improved cable routing, with stronger aluminium inserts to guide the cables, which sit seamlessly within the carbon layup. The guides allow the cables to run smooth and more efficiently by optimising the angles. The new Canyon Ultimate also features a new mech hanger, which is claimed to be 25% stiffer than the previous version, something which we envisage will cope better with the strains of electronic groupsets.
First Ride
Having had a ride on both the Ultimate and the Aeroad, I had a clear frame of reference in my mind. When I first jumped on the new Ultimate CF SLX the improved comfort was instantly apparent. The hotel we were based in had a cobbled drive way which I almost forgot was there, such was the smoothness. The increased comfort really is noticeable.
The test ride consisted of a variety of road surfaces and a 5km climb near Pamplona with Nairo Quintana, fresh from his second place at the Route du Sud, for company. Perhaps a testament to the vertical prowess of the bike was that I was not dropped by the diminutive Columbian climbing star, although I had a massive suspicion that he wasn't really trying!
The new Canyon Ultimate felt like a version lighter weight Canyon Aeroad CF SLX with increased comfort characteristics.
Having recently performed a test on an aerobike vs a road bike, which demonsrated that an aero set up was significantly faster, I questioned why a small rider such as Nairo Quinatana would ride the Ultimate and not the Aeroad. Riding an XS frame, he would easily be able to get the bike to the UCI weight limit of 6.8kgs.
Having ridden the new Ultimate, I get it. The ride is supremely comfortable, the handling composed, the geometry spot on and the stiffness, when climbing out the saddle, is everything you would want it to be.
The aero cockpit is suprisingly comfortable too. As a comparison, we found the aero bar on the Cervelo S5 to be rather impractical, and it didn't feel comfortable in the hand. Canyon also had their new integrated Garmin mount on the aero bar too, which worked perfectly.
My test bike was a size medium, equating to a 56cm in most other brands. The bike was fitted with Shimano Dura Ace Di2 and Zipp 303 Firecrest Carbon Clinchers. When weighed it came in at an impressive 6.66kg.
UK pricing is yet to be established but the bike will be available in sizes 2XS through to 2XL. Canyon also told us that there will be a more affordable SL version to follow and went on to hint that disc brakes were a possibilty too.
Stay tuned for more details on the new Canyon Ultimate CF SLX as we will be posting full reviews, once we get our hands on one. First impressions suggest that this bike is seriously special.
Lightweight vs aero: which is faster?
Thank you for reading 20 articles this month* Join now for unlimited access
Enjoy your first month for just £1 / $1 / €1
*Read 5 free articles per month without a subscription
Join now for unlimited access
Try first month for just £1 / $1 / €1
Get The Leadout Newsletter
The latest race content, interviews, features, reviews and expert buying guides, direct to your inbox!
Oliver Bridgewood - no, Doctor Oliver Bridgewood - is a PhD Chemist who discovered a love of cycling. He enjoys racing time trials, hill climbs, road races and criteriums. During his time at Cycling Weekly, he worked predominantly within the tech team, also utilising his science background to produce insightful fitness articles, before moving to an entirely video-focused role heading up the Cycling Weekly YouTube channel, where his feature-length documentary 'Project 49' was his crowning glory.