Tony Martin spotted using prototype Continental tyres and a single ring in Dauphiné time trial
The world champion appears to be open to using the latest marginal gains against the clock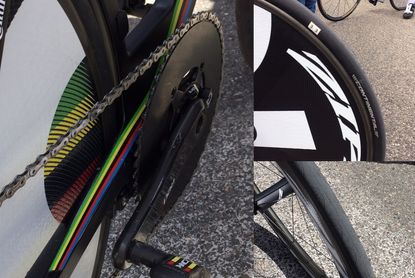 World time trial champion Tony Martin was spotted using prototype Continental tyres and a single front chain ring during the stage four individual time trial at the Critérium du Dauphiné.
>>> Richie Porte powers to Critérium du Dauphiné stage four victory
As a time triallist, Martin is well aware of how marginal gains can add up and be significant at high speed and his most recent set up conforms to this.
A Continental representative at the race confirmed that the tyres were indeed prototypes.
The front and rear tyres are different, with the front 23mm tyre featuring the designation '111' and a tread pattern very similar to Continental GP4000s II tyre.
We speculate that the reason for this is because extensive wind tunnel testing has shown the GP4000 tread pattern to be aerodynamically beneficial, particularly at yaw angles over 6º. Swissside engineer Jean-Paul Ballard demonstrated this in the Immenstadt wind tunnel.
The aerodynamic importance and implications of front tyres is currently being investigated by leading engineers and you can read more about it here.
Ballard believes that "The Continental GP4000S II has a sidewall profile which works very well for switching the boundary layer to a turbulent state at the right position on the tyre."
Adding: "The tyre is very important for an aero wheel. Without the right tyre, the aero wheel will not work aerodynamically because the airflow will stall at very low sidewind angles."
Rolling resistance is also an important consideration and the Continental GP4000 has been shown in independent tests, not to be as fast in this respect compared with other commercially available tyres such as Continental's GP TT.
It is therefore logical to suggest that the prototype could be a tyre that incorporates the aero profile of the GP4000 with the low rolling resistance compound of tyres like the GP TT.
Aerodynamics of tyres is less important on the rear and this is consistent with what Martin was seen to be using.
A wider 25mm tyre with a smooth tread, similar in profile to the existing Continental GP TT with the prototype designation '33.'
A Continental representative was seen consulting Martin after the time trial. It should also be pointed out that both these tyres are clinchers and not the tubulars favoured by the majority of pro riders.
Clinchers are believed to have lower rolling resistance than tubulars, something backed up by our own experiments.
Martin's bike was also fitted with only a single front chainring and no front derailleur.
This kind of set up is currently used by several high level time trialists on the UK domestic circuit and has a number of advantages.
Firstly, there is a slight weight saving, but more importantly, frontal area is reduced, resulting in a slight aerodynamic saving, typically in the region of a couple of watts.
It may not be much and may come with added risk of dropping chains, but when winning margins are small, two watts can be the difference. The downsides to this kind of set up can be reduced gear options and a higher risk of dropping the chain.
Thank you for reading 20 articles this month* Join now for unlimited access
Enjoy your first month for just £1 / $1 / €1
*Read 5 free articles per month without a subscription
Join now for unlimited access
Try first month for just £1 / $1 / €1