Zipp launches new wheels, bars and tyres
Zipp has announced new 303 Firecrest and 454 NSW tubular wheels, along with Ergo bars and tyre upgrades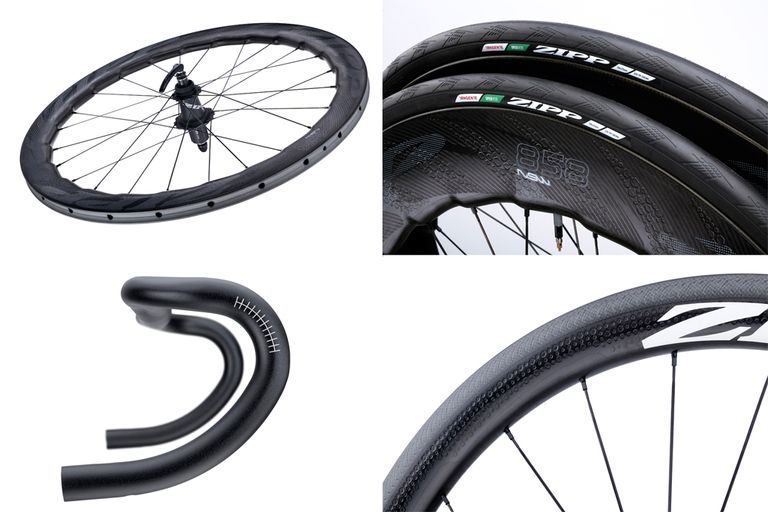 Prices for the rim brake wheels are £907 for the front and £1079 for the rear wheel and Zipp quotes a weight of 1339g. For the disc brake version, prices are £1071 front and £1250 rear and wheelset weight is 1410g.
>>> Bike handlebars: how to choose them and six of the best
Zipp quotes a weight of 315g for the Service Course 80 Ergo and 275g for the SL-80 Ergo in 42mm width. The former comes in gloss black and the latter in matt black finish and both are available in 38, 40, 42 and 44 cm width. Prices are £54 for the 80 Ergo and £109 for the SL-80 Ergo.
>>> The best road bike tyres reviewed
Zipp says that this design both reduces aero drag and side force on the NSW tubulars. Along with the dimple pattern, the profile is claimed to stabilise handling in gusty conditions.
Finally (for the moment) come two new tyres. In 25mm width, Zipp says that they provide much improved durability, rolling resistance and cornering grip over its previous generation 25mm tyres. Its testing showed that rolling resistance and grip both improved over the first 100 miles of use.
Zipp says that the improvements come from a new rubber compound, which took almost 12 months to develop. It says that puncture protection is better too.
>>> Zipp 302 carbon clincher review
In the centre of the wheels, laced with straight pull Sapim CX-Ray spokes sit Zipp's 77/177 or 77/177D hubs. The company says that these optimise torsional and lateral stiffness and robustness. Zipp's quick release levers are also designed to be ergonomic and sit flush with the frame. In the case of the disc brake wheels, you can run thru-axles using the included converters, while you can buy a separate XD cassette body if you want to run a larger range cassette on either hub.
New Service Course 80 Ergo and SL-80 Ergo bars
The Course R25 has a 120 TPI nylon casing and is designed for racing or training, while the Speed is for racing and has a 220 TPI casing. The Tangente Speed R25 costs £68 a tyre, while the Course R25 costs £58.
The rim brake version has the same dimples, as well as a new Showstopper brake track, that Zipp says gives excellent modulation and short stopping distances both in the wet and the dry.
Originally launched as a clincher only, the 454 NSW is now available as a tubular too. Zipp says that this was to meet the needs of its sponsored pro teams. Like the 454 NSW clinchers, the tubs have Zipp's biomimicry Sawtooth rim profile, coming in 53mm front and 58mm rear depth with a 27.8mm wide tyre bed.
The 80 and SL-80 alloy bars have been around for a while, but are now joined by Ergo versions with a flat bar top and a 3 degree backward sweep for a more neutral wrist position. Otherwise, they retain the medium reach design of the standard bar, with 80mm reach and shallow 125mm drop.
Zipp has also made the Service Course 80 Ergo and SL-80 Ergo compatible with clip-on aerobars – a first for its Ergo designs – and with Shimano's bar end Di2 junction box.
Updated Zipp 303 Firecrest tubular rim and disc brake versions
Weight for the rim brake 454 NSW tubular is 1435g. Go for disc brakes and you're looking at 1515g. Pricing for both versions is £1537 front, £1880 rear.
New Zipp Tangente Speed R25 and Course R25 tyres
Zipp says that it has a new manufacturing process for the 45mm deep 303 and that it now benefits from trickle-down from its premium NSW wheels.
New Zipp 454 NSW tubular rim and disc brake wheels
The 454 NSW tubulars roll on Portuguese-made Cognition hubs, with Zipp saying that the Axial Clutch ratchet mechanism halves the drag of a conventional ratchet.
With no brake track to cater for, the disc brake version of the 303 has a rim with Zipp's ABLC Sawtooth dimples extending to the outer edge. Zipp says that this improves crosswind stability and reduces drag at high yaw angles.
The new construction methods, Zipp says, give both rims improved impact resistance. The rims are 25mm wide and designed to work with wider tyres to provide enhanced tyre stability and ride quality.