How to protect your bike from the gritters
Well gritted roads allow us to keep riding, even when temperatures are well below zero - and we're very grateful. But remember the salt can play havoc with your bike if you don't clean properly it afterwards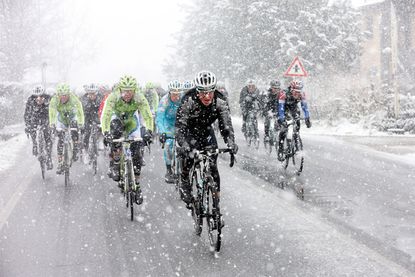 Riding when temperatures have dropped to near or below zero brings a host of special challenges. There's the number one concern of avoiding icy patches, the eternal debate over tyres and tyre pressure to worry about, plus the fact that you need to do all of this with limited feeling left in your fingers.
Amid the entirely reasonable concern over safety and comfort, it's quite understandable that sometimes the condition of your bike gets overlooked. The first thing you want to do after a bitterly cold ride is get inside and get warmed up, not clean your bike.
>>> How to stay safe when riding in snow and ice
However, the salt and grit that is helpfully deposited on the roads in these conditions (without which riding would be a lot more treacherous) can be extremely damaging to your bike.
The useful ice melting agents are swept up into the drivetrain, where particles act as an abrasive substance, wearing down your chain, chainrings, cassette and jockey wheels. Steel and aluminium frames are liable to suffer from rust, and grit flung up from the wheels can chip the paint on your beloved.
>>> Cycling in the snow: your photos
Whilst disc bakes are renowned for providing better stopping in the wet, they're not immune from grit attack – the substance gets suck on the rotors, just as it does on rim braking surfaces, reducing stopping power.
In short, if well gritted roads are giving you the option of riding in snowy, icy conditions (or if you've been taking a cyclocross or mountain bike out) – you need to take care of your bike.
How to clean your road bike in seven minutes
http://www.youtube.com/watch?v=ZPhxnu-xS90
We've checked in with 2016 founded manufacturer of all thing bike-care, Crankalicious (opens in new tab), to collect some tips that will help you keep your machine in good condition.
Crankalicious aims to produce the most technically proficient bike care products on the market, all of which are produced by hand in small batches at its HQ in Elsenham, Essex. We're big fans because it's a brand that's committed to using high quality ingredients and environmentally friendly packaging.
Here are its top tips:
Ride, and rinse
As soon as you've finished riding, rinse off the entire bike with a hose (not jet wash) or a bucket of water. If you have time, a quick wash with a general purpose bike cleaner will make a huge difference. This should clear a lot of the gunk build-up on the frame and components but using a soft brush should shift more stubborn dirt.
Let degreaser sink in
Cleaning the drivetrain with a quality degreaser will clear off any lubricants which cause grit to stick to components. To get the best results, let the product dwell for a couple of minutes, then agitate the dirt with a drivetrain brush (harder than one you would use for the frame) to allow for an easy rinsing. You can also use a chain cleaning tool to obtain a deeper clean in the more hidden areas between the chain links.
If you're short on time, Crankalicious offers a Gumchained Remedy Kwipe (a handy single use, disposable wipe laced with Crankalicious chain cleaner) which you can use to wipe down the chain.
Never neglect lube
Always lubricate your chain after cleaning! A wet chain can get rusty so, to protect it, wipe it dry, apply a decent amount of lubrication and wipe off the excess.
Care for brake pads
Cleaning braking surfaces with a residue free brake cleaner will slow down wear on your rims and rotors. You're likely to go through brake pads more quickly this time of year so it's important to check these regularly and replace when necessary. In the case of rim brake pads, picking out any embedded grit with a sharp object will prevent damage to your rims.
Buff it out
When your frame is clean and dry, use a purpose made polish to buff out any scratches (for matt frames be sure to use a matt specific frame cleaner) in which dirt can settle and where salt can eat into the frame underneath. It also provides a good opportunity to check for any potential cracks or deeper scratches.
Wax on, wax off
Prevention is the best cure! Applying a hybrid wax will add a protective layer to your frame. Grit and salt will also find it more difficult to stick to the super smooth surface making the frame easier to clean next time around. A nano protectant will repel water where it would usually collect such as around the bottom bracket and on the underside of the downtube.
For more info about Crankalicious hand made cycle care and for more guidance on cleaning, improving and protecting your bike, check out its website here.
Thank you for reading 5 articles this month* Join now for unlimited access
Enjoy your first month for just £1 / $1 / €1
*Read 5 free articles per month without a subscription
Join now for unlimited access
Try first month for just £1 / $1 / €1