British cyclocross championships to be streamed live online - and for free
The 2018 British Cyclocross National Championships over January 13-14 will be covered by live online video broadcast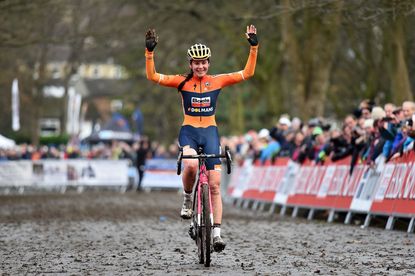 (Image credit: Andy Jones)
The 2018 British Cyclocross National Championships will be broadcast live online, and free of charge.
Selected action from Hetton Lyons Country Park, Sunderland, taking place over the weekend of January 13-14 will be shown on British Cycling's website and Facebook page.
According to British Cycling, the decision was made to air live video of the championships after the success of live-streamed coverage of the National Circuit Championships in 2017, which it says attracted over 110,000 viewers.
"The popularity of cyclocross continues to grow in Britain, and it's fantastic that we are now able to take the discipline to an even greater audience by streaming this year's action live on British Cycling's website and social media channels," said Jonny Clay, British Cycling's director of cycling.
"At British Cycling we want to inspire more people to get on their bikes and that's why it is so important that we invest in our national championships and make them an event that riders, spectators and viewers will remember."
Great Britain's cyclocross riders are currently enjoying success in international races, and the coverage will give fans a chance to see off-road stars such as Nikki Brammeier, Ian Field, Helen Wyman, Tom Pidcock and Evie Richards on home turf (or mud/snow, depending on the weather).
"We know that cyclocross is a hugely entertaining sport to watch and with the strength of the field and a fantastic course we wanted to ensure that as many people as possible can enjoy a great spectacle and be inspired to attend another event or take up the sport themselves in the future," said Clay.
Live coverage will extend to categories taking place on Sunday, January 14, starting at 9.30am for the under-23 women's event and then including under-23 men, junior men, senior women and senior men's races.
Field and Brammeier took the respective senior men's and women's category titles in 2017.
Thank you for reading 20 articles this month* Join now for unlimited access
Enjoy your first month for just £1 / $1 / €1
*Read 5 free articles per month without a subscription
Join now for unlimited access
Try first month for just £1 / $1 / €1