Jeff banks backs Catford CC at a claimed £250,000 for 2014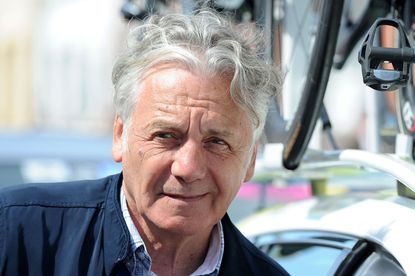 With a claimed budget of £250,000, next year's Catford CC/Banks team will be among the best-equipped amateur squads in the world.
Backed by fashion designer Jeff Banks, a life-long member of the London club, it is expanding for 2014 after a solid first season, in an attempt to develop its fledgling riders.
Former Team Sky DS Sean Yates will help coach the squad's 12-man team, which comprises all abilities, from five first-cats to youth riders. The riders will use brand-new Condor Leggero bikes and Garmin Vector power-meter pedals, and they all have private healthcare.
"The dilemma was, do we keep it low-key, or do it properly and push on?" said team manager Mike Morgan. "Jeff asked me what we would need for the latter, and everything I [asked of] him, he has come through with. In return he wants us to stay an under-23 team."
Additional support has come from the team's partners, as well as the profits from the club's Hell of the Ashdown sportive.
"It annoys me that some clubs are not reinvesting back into the sport," added Morgan. The team's strategy will likely divide opinion. Is it better to support younger riders generously, or to make them work hard for any luxuries? Catford clearly believe in the former.
"Basically, we want the riders to be the best they can possibly be, and there's nothing that I need next year that I do not have to help them achieve that," said Morgan. "We know we'll get our backsides kicked now and again, and a few people's perceptions of us will mean teams want to beat us. But this isn't a one-year plan. The goal is to help these riders progress and develop. We're looking at causing a few upsets along the way."
This article was first published in the December 19 issue of Cycling Weekly. Read Cycling Weekly magazine on the day of release where ever you are in the world International digital edition (opens in new tab), UK digital edition (opens in new tab). And if you like us, rate us!
Thank you for reading 5 articles this month* Join now for unlimited access
Enjoy your first month for just £1 / $1 / €1
*Read 5 free articles per month without a subscription
Join now for unlimited access
Try first month for just £1 / $1 / €1
Nick Bull is an NCTJ qualified journalist who has written for a range of titles, as well as being a freelance writer at Beat Media Group, which provides reports for the PA Media wire which is circulated to the likes of the BBC and Eurosport. His work at Cycling Weekly predominantly dealt with professional cycling, and he now holds a role as PR & Digital Manager at SweetSpot Group, which organises the Tour of Britain.