Marcin Bialoblocki smashes 50-mile time trial record by more than three minutes with 1-30-31 ride
Polish rider now holds 10-mile, 25-mile, and 50-mile records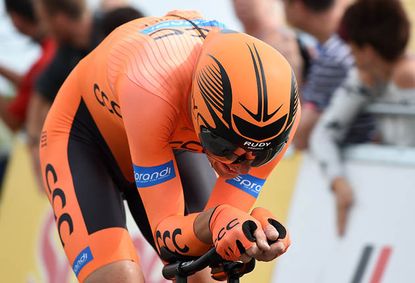 (Image credit: Andy Jones)
Marcin Bialoblocki has set a new 50-mile time trial national record by more than three minutes after setting a time of 1-30-31 at an event on Sunday.
Bialoblocki, riding for the Nopinz team, set the new record time on the E2/50C course along the A11 near Newmarket, riding at an average speed of 33.143mph (53.339kmh).
The Polish rider's time eclipses the previous mark set by Paul Hart (Southend Wheelers) who had knocked six seconds off Matt Bottrill's four-year-old previous record with a ride of 1-34-37 on the same Cambridgeshire course in May.
The result means that Bialoblocki now holds the records for 10-miles, which he set at 16-35 in 2016, 25-miles, which he set at 42-58 in May after beating his own previous record, and 50-miles.
Bialoblocki also posted his astonishing ride on Strava, complete with power data to show the incredible effort needed to set such a fast time.
Unsurprisingly Bialoblocki picked up a fair few Strava KOMs to go with his comp record, averaging a massive 387 watts for the length of his effort with an average heart rate of 160bpm.
He also managed to pace the effort well, getting faster as the race progressed. For the first 25 miles Bialoblocki averaged 383 watts with an average heart rate of 155bpm, while over the second half he averaged 391 watts and 165bpm.
Next in Bialoblocki's sights could well be the 100-mile record, which is currently held by Adam Duggleby with a time of 3-16-51 which he set last year.
Duggleby himself came third in the 50-mile event won by Bialoblocki on Sunday, tweeting about how he was nearly caught by Bialoblocki despite starting six minutes ahead of him.
The next major event on Bialoblocki's calendar is the National 25-mile Championship which takes place on the fast R25/3H course in south Wales where Bialoblocki set his 42-58 mark earlier this year.

Thank you for reading 20 articles this month* Join now for unlimited access
Enjoy your first month for just £1 / $1 / €1
*Read 5 free articles per month without a subscription
Join now for unlimited access
Try first month for just £1 / $1 / €1