Tejvan Pettinger wins Glossop Kinder Velo hill-climb
British time trial round-up (August 30-31): News and results from around UK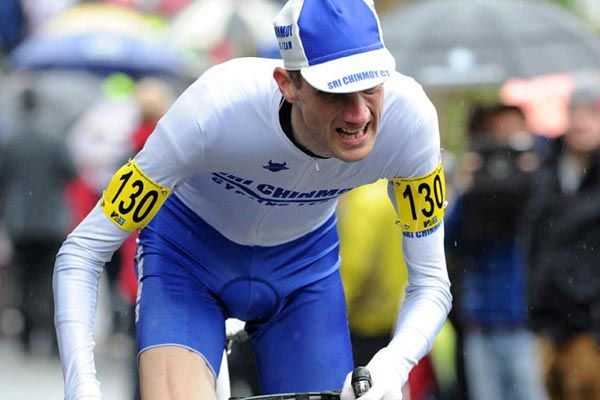 National champion Tejvan Pettinger (Sri Chinmoy CT) opened his hill climb season in the same way as the previous two years with victory in Glossop Kinder Velo's event on the Snake Pass in Derbyshire.
Pettinger, back in the country for a little over 24 hours after a trip to New York, was the only rider inside 12 minutes as he completed the 3.2-mile ascent in 11 min 51.5 sec, 15 seconds down on his event record from last year when he enjoyed a more favourable tailwind, to win the event for the third year running.
Adam Kenway (Zenith CC-Buzz cycles) transferred his good road racing form to take second place in 12-40.4 ahead of Sam Clark Buxton CC), 13-18.0, while Joanne Blakely (GB Cycles) was fastest woman in 15-26.1 in a close tussle with Vanessa Whitfield (VC St Raphael), 15-28.8.
Carl Saint (Yorkshire RC) posted a winning 1-50-34 in blustery conditions for the VTTA (North) 50-mile test on the Craythorne-Dishforth course. Richard Hunt (Richmond Triathlon Club) took second spot in 1-51-05 with third place going to Tom Denwood (Harrogate Nova CC), 1-53-09.
Mark Holton (www.drag2zero) was a clear winner of Wigan Wheelers CC's Charity '25' at Garstang, clocking 52-52 for victory ahead of Preston Wheelers pair John Morgan, 54-36, and Paul Fleming, 55-52.
David Kiernan (Team Corley Cycles), 20-20, had nine seconds in hand over second-placed David McCaw (Cambridge CC) in blowy, less than favourable conditions for Bossard Wheelers CC's event on the 10-mile Brogborough course, in Bedfordshire. Third place went to David Langlands (Fenland Clarion CC), 20-47, and Danuta Tinn (Maidenhead & District CC) was fastest of the women's field in 23-31.
Joel Wainman (Team Swift) continued his winning ways in Scarborough Paragon CC's '10' at Burton Fleming, in East Yorkshire. His 21-48 was 21 seconds too good Anthony Bromley (Barnsley RC) with his own team-mate, Blair Buss third in 22-27.
Steve Williamson (VC Godalming & Haslemere) led the way in Reading CC's Colin Roberts Memorial '10', covering the Bentley course in 20-54. Rick Froud (Alton CC-Owens Cycles) was next best on 21-26 ahead of Jay Hookins (Devizes Town CC), 21-47.
The composite trio of Rebecca Slack (Look Mum No Hands), Elise Sherwell (Blazing Saddles) and Suzetta Guerrini (Boom Cycles CC) set the pace in the Surrey League Women's Three-up at Coolham, their 47-52 for the 20-mile course putting them well clear of nearest challengers, the Les Filles RT team of Nicole Oh, Helen Ralston and Alexis Shaw.
Matt Bottrill breaks championship record with second-fastest British 10-mile time ever
Thomas Baylis and Hetty Niblett take junior national 10-mile time trial titles in Warwickshire