'Check for illegal socks' – reaction as UCI introduces maximum sock height for 2019
Team boss Jonathan Vaughters and TV commentator Brian Smith have weighed in on the development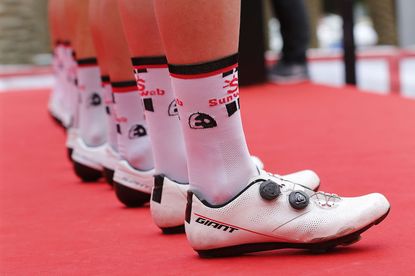 (Image credit: Yuzuru SUNADA)
The UCI is reintroducing strict rules on the maximum sock height allowed in the professional peloton.
Under new rules that come into force on January 1, pro riders' socks must not reach beyond the halfway point between the ankle and the knee.
At a time when teams at all levels of racing are struggling, the women's peloton is pushing for more professionalisation and WorldTour riders are being banned for doping, many are questioning the UCI's priorities.
Figures from the cycling world have weighed in on the conversation, including EF Education First-Drapac team boss Jonathan Vaughters.
Vaughters is not best pleased the UCI have included the regulation, suggesting the organisation should focus on other aspects of the sport.
That sentiment has been shared by broadcaster and cycling commentator Brian Smith, who questioned if the UCI has anything more important it could be dealing with.
Smith shared an image from the UCI's rules and regulations which explains the specifics of the maximum sock height.
Belgian pro and Quick-Step Floors rider Iljo Keisse saw the funny side, and dropped in a pretty decent pun.
We're yet to see and real reaction from riders.
The CEO of nutrition company Science in Sport Stephen Moon also has thoughts on the rule.
Moon ironically suggested that funding problems, governance and grass roots riding are low on the UCI's priority lists.
He jokingly added that socks are the big issue of the day.
Outside the world of professional cycling, the UCI's new rule has split the opinion.
Here are some reactions from Cycling Weekly readers:
Bob Henderson is relieved by the decision, although we're not sure where this falls on the sarcasm scale - could go either way.
Tom Bukojemski is more enthusiastic about the decision, appearing to suggest high socks are not welcome in pro cycling.
Damo is also pleased, he's not a fan of the high socks trend and calls for a ban on "Henry High Socks."
Rob B raises the very interesting point of enforcement.
How the UCI plans to measure socks is currently a mystery, but Rob suggested an app to help officers investigate.
And finally Jordan Reed sarcastically recalls the hours of rest he's lost worrying about the percentage of professional cyclists' legs covered by fabric.
Thank you for reading 20 articles this month* Join now for unlimited access
Enjoy your first month for just £1 / $1 / €1
*Read 5 free articles per month without a subscription
Join now for unlimited access
Try first month for just £1 / $1 / €1