Cooking for Contador: Ivan Basso and Tinkoff press officer hit the kitchen after team chef quits
The team chef says he quit over disputes with team own Oleg Tinkov, leaving the team waiting for a new chef to arrive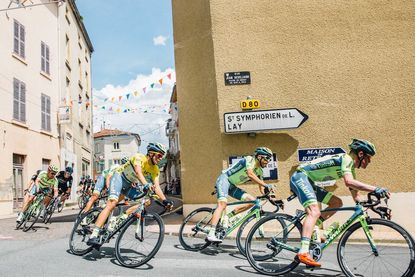 (Image credit: Daniel Gould)
Tinkoff sports director Ivan Basso and press officer Jacinto Vidarte stepped in to help cook for Alberto Contador's team at the Critérium du Dauphiné this week in France after the chef quit over a dispute with boss Oleg Tinkov.
The team's kitchen truck was due to arrive for the week-long stage race in southeast France, but could not without the cook. The hotels' kitchens were not ready because race organiser ASO assumed that the Russian WorldTour would prepare its own meals in its kitchen on wheels and told the hotels so.
"I was helping make the pasta this morning for the riders before the stage," said Vidarte, press officer for Dauphiné race leader Contador. "Ivan and I were helping the masseurs. It's normal that the masseurs are cooking or helping make the meals, but this time we stepped in.
"In many races we don't take the truck along, it's only in the big ones like the Giro d'Italia, the Vuelta a España and the Tour de France, and maybe ones like the Dauphiné. For example, Alberto didn't have the truck at the Volta ao Algarve this year."
The truck, sitting in the team's service course, is scheduled to roll again in the Tour de France, starting July 2 in Normandy.
"It was not a surprise for us, the Danish Chef Rune Sørensen decided to leave the team and that's all. We'll probably have a new one, an Italian, soon."
Watch: Secrets of the toolbox - Tinkoff
Vidarte was not referring to Italian Ivan Basso, winner of the 2006 and 2010 Giro d'Italia. Basso became a sports director this year after retiring and this morning, a part-time chef.
Dane Sørensen wrote on his Facebook page that his time with team Tinkoff did not end well, referring to owner Oleg Tinkoff when he refers his former boss.
"I have since Monday been on sick leave from the team," he wrote. "During the last days in Giro, I had problems with the boss not just a little hernia but threats and other inexcusable behaviour. This is why I have chosen to end my contract with the team. It has not been a fun decision, but I have never been in doubt. I'm going to miss the job and the people behind the scenes so much."
Tinkov already announced he is leaving the team. He will sell it if he finds a buyer or close it by the end of 2016. Belgian newspaper Het Nieuwsblad reported that last year Tinkov had a similar dispute with the team's bus driver before he left and was replaced.
Thank you for reading 5 articles this month* Join now for unlimited access
Enjoy your first month for just £1 / $1 / €1
*Read 5 free articles per month without a subscription
Join now for unlimited access
Try first month for just £1 / $1 / €1